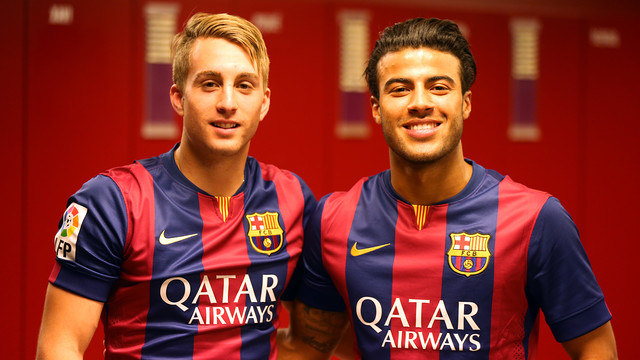 The players are back from spending last season on loan, and are ready to serve as FC Barcelona first team players in 2014/15
"I know how much competition there is and it's a good thing", said Deulofeu, while Rafinha added that "it's a challenge"
Rafinha Alcántara and Gerard Deulofeu, who played on loan last season at Celta and Everton respectively, will be official members of the Barça 2014/15 first team squad. On Tuesday they were at the Camp Nou to try on their new shirts and appear on the field that they'll be gracing after the summer break.
Rafinha and Deulofeu are back together one year after sharing a changing room for Barça B. They have known each other for years, and their friendship was apparent as they met again on a very exciting day for them both.
Speaking to the club's media, the Spanish-Brazilian said that "I learned the game for seven years here and I'm thrilled to be back, it's a great challenge for me … I want to learn from these brilliant players". He is returning to FCB alongside Luis Enrique, who was his manager last season in Vigo, and is a man he describes as "someone who does everything to make sure he does things well".
Deulofeu added that "I'm very happy, I've missed all of this … I know how much competition there is for places here, but I think that's a good thing … I know what kind of football I can offer and I'll do my best to help. I want to win trophies and contribute as much as I can".
The players then went out onto the pitch to show off their ball skills and pose for pictures at what is once again going to be their home