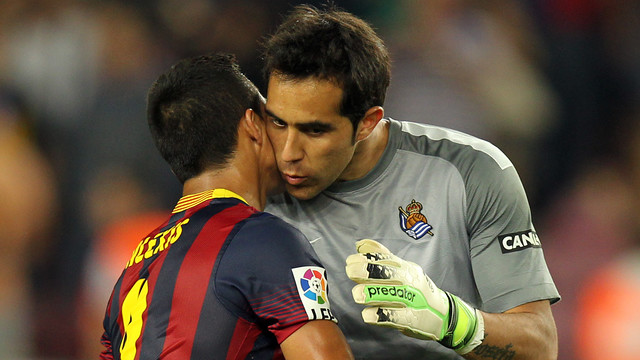 The new keeper joins Alexis Sánchez as the second ever Chilean to sign for FC Barcelona
He's also the sixth South American keeper to don the blaugrana strip
The six South American keepers
· Juan de Urruela (Guatemala, 1899-1900)
· Carlos Soley (Costa Rica, 1899)
· Jaguaré Becerra (Brazil, 1931-32)
· Carlos Domingo Medrano (Argentina, 1959-61)
· Roberto Bonano (Argentina, 2001-03)
· Claudio Bravo (Chile, 2014-)
FC Barcelona's long history is full of players who are from all around the world. Curiously, no Chilean had played for the Club until 2011, when Alexis Sánchez was signed from Udinese. Now, in addition to Alexis, we add Claudio Bravo.
The new FC Barcelona keeper disembarks from Real Sociedad on a four-year contract. Despite Alexis' youth, the forward and the keeper have been permanent fixtures for the Chilean national team for quite some time. In fact, Bravo is the captain of Chile since 2008 since Marelo Salas retired from the sport.
The sixth South American player
Many foreigners have played for Barça over the years, but Claudio Bravo is only the sixth South American keeper to defend Barça's goal. In fact, the keeper position at FC Barcelona has a very direct link to South American football. In the first match of FC Barcelona's history, played at La Bonanova, the Barça keeper was Juan de Urruela, from Guatemala.
De Urruela, in addition to being the first, also featured in Barça's fourth ever game. The starting keeper in Barça's third game was Carlos Soley, who was born in Costa Rica. Since then, the Brazilian Jaguaré Becerra (1931-32) and the Argentinians Carlos Domingo Medrano (1959-61) and Roberto Bonano (2001-03) also defended Barça's goal. The Chilean Bravo will be the sixth South American keeper to don the blaugrana colours.