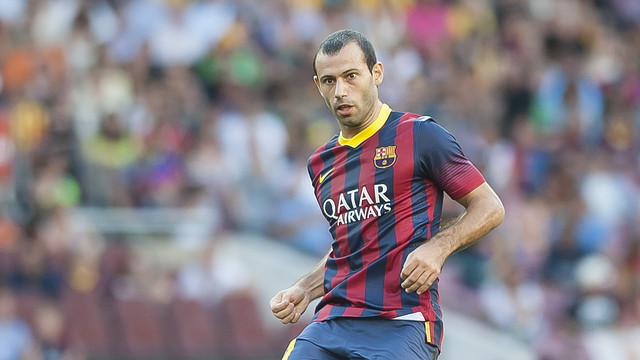 FC Barcelona has agreed a deal with Mascherano to extend his contract for another four years, until 2018
The deal includes an option for a further extension to 2019

FC Barcelona is pleased to announce that agreement has been reached with Javier Mascherano to improve and extend his contract for another four seasons, until 30 June 2018, plus an option on a further season. The buy-out clause is 100 million euros.
Javier Mascherano has enjoyed a fruitful spell with Barça, winning the Champions League (2011), two Spanish leagues (2011 and 2013), the Spanish Cup (2012), the European Super Cup (2011), two Spanish Super Cups (2012 and 2014) and the World Club Cup (2011).
184 appearances
The Argentine international has moved back into central defence with FC Barcelona and has made 184 appearances for the first team. He signed for Barça from Liverpool in the summer of 2010. Last season, he made 44 appearances as a vital part of the defensive set-up.
Mascherano is one of 13 Barça players taking part in the Brazil World Cup which kicks off next Thursday. He'll spend his birthday with his team-mates of the Argentine squad.