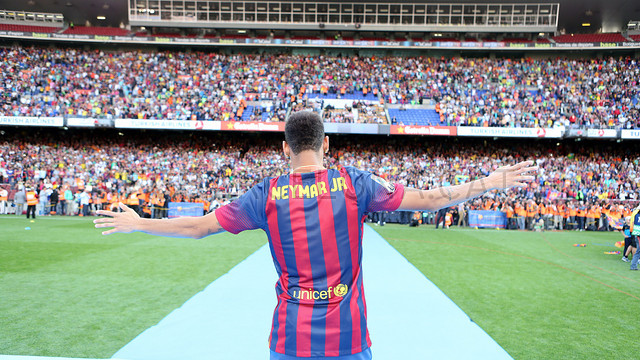 Today June 3 is the first anniversary of the Brazilian's official presentation at his new club
56,500 fans came to the Camp Nou to welcome their new hero
Monday June 3, 2013, is a day Neymar da Silva Santos Junior will never forget. After a long wait, he finally became an FC Barcelona player.
Following his medical test, at midday he signed a contract binding him to the Catalan club until 2018. He then stepped outside the office, where the media was waiting to get the first photos of one of the summer's highest profile signings.
There were 334 accredited reporters there to welcome him, and then came the moment for the fans to get their first glimpse of the Brazilian striker. No fewer than 56,500 people were in the Camp Nou to hear him say "Good afternoon everyone. I am very happy to play for Barça. I'm excited, it's a dream come true. Thank you very much and Visca el Barça!"
He then went indoors to give his first press conference as an FC Barcelona player.
15 goals in 41 games
Neymar appeared in 41 games in his debut season (26 in the league, 3 in the cup, 10 in the Champions League and 2 in the Spanish Supercup), scoring 15 goals. His first, in the Supercup against Atlético Madrid, won his club's first and only title of the season. By December 11, in 6-1 win at home to Celtic, he had already scored his first hat-trick for his new club, which were also his first ever goals in the Champions League.
But Neymar's adaptation to European football was also hit by injuries. The first came in the cup against Getafe, and left him side-lined for almost a month.
He suffered a second injury, this time to his left foot, in the cup final against Real Madrid. That left him out of the side until the last day of the season, when he came on for a few minutes against Atlético Madrid
.