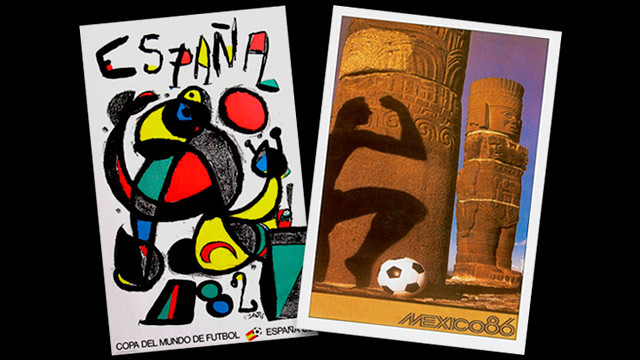 Fourth edition of the review of all World Cup Finals from a FC Barcelona perspective

With just a few days to go to the start of the World Cup Finals in Brazil, we are continuing the series of summaries of all previous tournaments, from a FC Barcelona perspective. In 1982, the Camp Nou was one of the major scenarios, and in 1986 the Golden Boot went to the former Barça player, the Englishman Gary Lineker
Spain 1982
– On the 13th of June the inaugural match was played at the Camp Nou, between Argentina, the current Champions, and Belgium, and 95,000 spectators filled the stadium.
– As well as the inaugural match, the Camp Nou was the scenario for four other World Cup games: Poland v Belgium (June 28, 3-0), Belgium v USSR (July 1, 0-1), USSR v Poland (Juy 4, 0-0), and Italy v Poland (July 8, 2-0).
– The representation in that year from Barça was limited to 6 players, and just 2 national teams. In the Spanish national team there were Urruti, Alexanko, Periko Alonso, Sánchez, and Quini and the great Maradona was part of the Argentine squad.
– Both Spain and Argentina were eliminated in the second phase in a tournament with a different format to the current one.
– Shortly after those World Cup Finals, on August 24, 1982, the extension of the Camp Nou was inaugurated, and the Stadium would take on a capacity of 120,000 spectators
Mexico 1986
– In these World Cup Finals, the FC Barcelona representation consisted of 8 players, in 3 national teams. In the Spain national squad were Zubizarreta, Urruti, Julio Alberto, Víctor, Calderé, and Carrasco. Gary Lineker was in the England team and Steve Archibald in the Scotland squad.
– Gary Lineker signed for Barca, from Everton, just before the start of the World Cup Finals. At that tournament he became the top scorer with six goals, even though England were eliminated in the quarterfinals by Argentina.
– The other Barça striker Steve Archibald, playing for Scotland, only played in one game in the World Cup Final stages, and did not get on the scoresheet.
– Zubizarreta, Víctor, and Julio Salinas, who would sign for Barça from Athletic Bilbao in 1988, were in the starting line-ups in all 5 of Spain's matches.