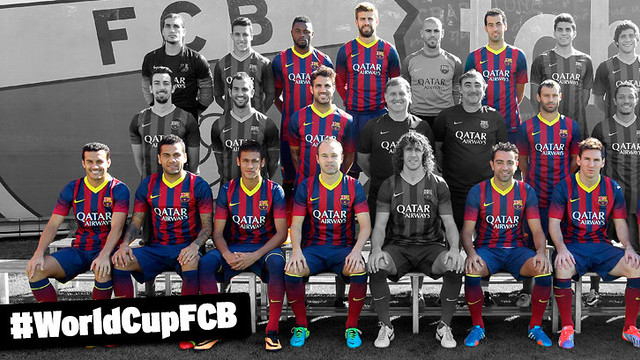 13 of the 25 Barça 2013/14 first team squad members will take part at the World Cup in Brazil.
The World Cup 2010 was the only one where more FC Barcelona players took part
On Thursday the 2014 World Cup will kick-off. As in previous editions, Barça will be heavily represented, as 13 of the 25 Barça 2013/14 first team squad will take part. They are: Pique, Jordi Alba, Busquets, Xavi, Iniesta, Cesc, and Pedro (with Spain), Alves and Neymar (Brazil), Messi and Mascherano (Argentina), Alexis (Chile) and Song (Cameroun).
Only in the World Cup of 2010 were there more under contract FC Barcelona players: 14. As in that event, Barça is once more the club providing most players for the Spanish National Team (7).
Veterans, first timers and absentees
In Brazil, Xavi Hernandez will beat a new record by becoming the first Barça player to take part in four World Cups. He's one of the few that knows what it is to win it. Despite their fairly young ages, Lionel Messi and Cesc will be there for the third time, just like Mascherano and Iniesta. However, Neymar Jr. and Jordi Alba will be taking part for the first time.
The number of 13 players from the same club taking part in a World Cup is very unusual internationally, and this number could have been higher if not for the injuries to Victor Valdes and Carles Puyol, which made them unavailable.
BRAZIL 2014