Xavi Hernández: "It's an historic opportunity"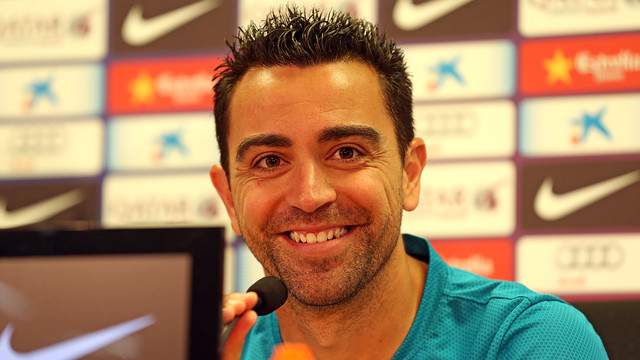 "They are the best in defence, they pressurise you, support each other and have different options up front" Xavi said about Atletico Madrid
"It's a great final, a fantastic match. It would be the icing on the cake for this generation, playing such an important match as this", Xavi explained.

"One of the keys to the game is to score first, and get them to move forward more," said Xavi, the player who best appreciates the Barça style of play. The midfielder said that everyone believed that the League Championship was lost: "We really believed we had no chance, but maybe we gave up too soon. We thought we'd lost the League and these things happen in football, and now it's in our hands. It's a very important title, and we have to be together. It's an historic opportunity. It will be a great final match".
[[CITA_1]]
Barca's opponents, Atletico Madrid, have only to draw to become Champions of La Liga, 18 years after the last time they won it, in the 1995/96 season, when they won the double. Atletico are, according to Xavi, the team with the best defense in Europe: "They are the best in defence, they pressurise you, support each other, and have different options up front," said Barça's playmaker. "We are still hungry and people should be encouraged…. La Liga should be seen as it is, competing until the end. Up against us are a great team".
[[CITA_2]]
This generation of players, who have already enjoyed a historic comeback like the one against Milan in the Champions League, have never played for the League in a death or glory match, and much less in their own stadium: "This is a great generation, and this is an historic opportunity for us. It's a unique game and I don't know if it will happen again. It would be the icing on the cake for this generation, playing such an important match" Xavi explained, and he made it clear that his idea is to carry on at Barça.
[[CITA_3]]
"I'm so sorry they're leaving. Carles Puyol is an example to us all for his spirit of leadership, and sacrifice. We've been together our whole careers, he's a great person. With Valdes as well, the best goalkeeper in Barça history, people don't know him enough, and we are really missing him now. We wish them all the best. They are two great friends" Xavi said about two bastions of Barça's golden decade.
We really believed we had no chance, but maybe we gave up too soon
We are still hungry and people should be encouraged…. La Liga should be seen as it is
Carles Puyol is an example to us all for his spirit of leadership, and sacrifice