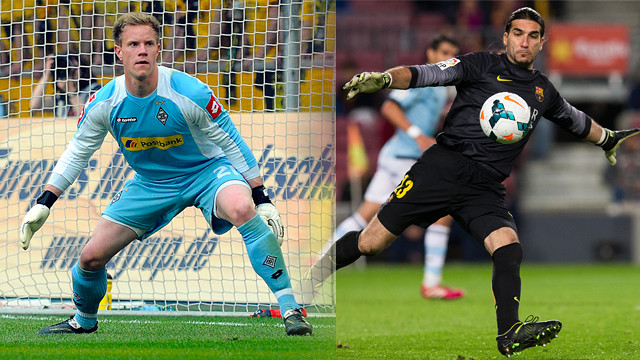 The Club announces the signing of the keeper from Borussia Mönchengladbach, and the departure of Pinto after six and a half years of service to the team
Marc-André Ter Stegen is one of the new signings for the 2014/15 Barça squad. Football Director Andoni Zubizarreta and the Board of Directors announced the news this afternoon after the extraordinary Board meeting scheduled for earlier this afternoon. In addition to the news regarding the German keeper, the Board announced that José Manuel Pinto will no longer defend Barça's goal now that his contract has expired.
"The Board of Directors want to publicly thank the professionalism and dedication of José Manuel Pinto throughout his time at the Club." Therefore, the Club thanked the keeper for his six and a half years of service as a Blaugrana. Pinto arrived in January of 2008 as Albert Jorquera's replacement. He played a total of 73 games and won 16 titles (4 Ligas, 2 Champions Leagues, 2 Copas del Rey, 2 European Super Cups, 4 Spanish Super Cups and 2 Club World Cups).
Welcome, Ter Stegen
Born in Mönchengladbach on April 30, 1992, Marc-André Ter Stegen is considered to be one of the keepers with the highest potential in European football. He made his first team debut with Borussia Mönchengladbach in 2011, at the age of 18, and since then he's consolidated his starting keeper status with the first team. He was crucial to his team in the last three seasons and in the 2011/12 season he was named best keeper of the Bundesliga.
Standing 189 centimeters tall, he dominates areal play and is known for his natural ability and quick reflexes. Despite his young age, he's a player with a lot of personality and experience thanks to his three years in the Bundesliga and with the German national team. After a long career in Germany's youth teams, in May of 2012 he made his debut with the national team against Switzerland.
108 in the Bundesliga
His performances, in which he demonstrated an aptitude in goal and on-the-ball precision, made him crucial in Borussia Mönchengladbach's fantastic season. His team finished sixth and qualified for the Europea League. Ter Stegen featured in 34 league games, conceded 43 goals and made 138 saves.