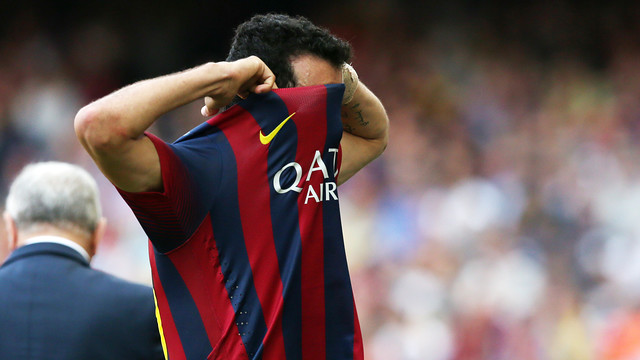 Barça miss out on their fifth league in six years as Atletico take the title with a 1-1 draw

Barça were finally unable to lift their fifth title in six years, as Atletico Madrid held them to a 1-1 draw at the Camp Nou to win the league and condemn Barça to a third place finish. Only a win would do for Barça and the team pushed for it right till the end – when Pinto went up for a final corner – but despite going ahead through an Alexis goal in the first half, Godin's headed equaliser after the break proved enough to give the visitors the point and the title.
In another great display of sportsmanship, the packed Camp Nou gave the new champions a well deserved ovation after the game.
Cagey start
It was a cagey start to the game and when Atletico lost both Diego Costa (15) and Arda Turan (21) to injury, the game became if anything more fractured, with only Adriano threatening a goal with a long range shot. The visitors looked the more comfortable though, threatening with their more direct game and from set pieces.
Superb opener

Even though Atletico seemed to be imposing their style on the game, it was Barça who opened the scoring and gave the 96.973 fans a glimpse of glory. Dani Alves was being used a lot down the right and it was from that flank that the goal came; Cesc outing the ball into the box for Messi to control with his chest and lay back for Alexis, who fired in a superb volley that gave Courtois no chance and saw the Camp Nou explode with joy and hope.
Godín equaliser

This was the first time in six games that Barça had taken the lead and that meant Atletico had to open up their lines and attack and they got their reward on 49 minutes when Godin headed home powerfully from a corner. Simeone's side smelt blood now and went all out for the win, as Barça looked groggy and didn't get themselves back into the game until the hour mark, when they began to search for the goal that would give them the title. Messi saw a goal disallowed for offside and Alves tried from distance, but Atletico always looked dangerous on the counter as the nerves began to show on both sides.
Sad end to the game
Barça's last gasp efforts saw Pinto racing up for a corner on 93 minutes, but it wasn't to be and Atletico cleared their lines and claimed the title with the final whistle.
The Camp Nou crowd applauded their team off and also gave a standing ovation to the new league champions, Atletico Madrid.