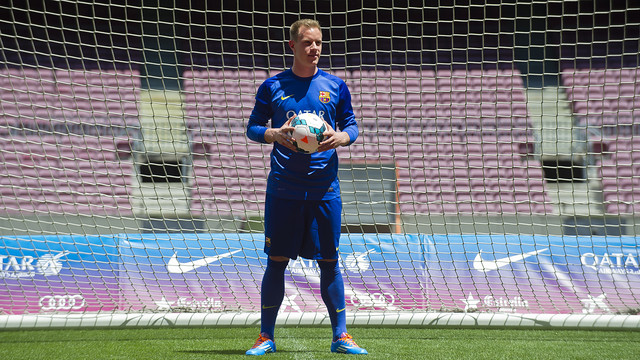 The German goalkeeper acknowledges that this is a big step forward in his career
"It was an honour for me to receive such an offer from a team that has been so succesful in recent years" he told the media
Zubizarreta described the keeper as "fast, agile, strong in the air and good in the one-on-one"
Marc-André ter Stegen is officially an FC Barcelona goalkeeper. After impressing so much for Borussia in his home city of Mönchengladbach, he has joined the Liga giants. Today he appeared in his first press conference and started with an apology. "I don't speak very good Spanish yet, let alone Catalan" he said. But judging by the surprisingly confident way that he delivered those words in Spanish, it won't be long before he does.
"It's very important for me to be able to speak Spanish and I'll try hard to learn" he continued. "Thank you for such a cordial welcome. I am very happy to be here and I hope to enjoy a lot of success at Barça". Although he gave the rest of the conference in German through a translator, it doesn't look like he'll find it too difficult to settle into a new culture.
FCB director of football, Andoni Zubizarreta, defined his new signing as "fast, agile, decisive, strong in the air, good in the one-on-one and able to relate well with his defence, especially when they play so deep as they do here. There is room for improvement, as there is with anyone, but he is also very good with the ball at his feet. That's important for us here at Barça, but on top of that, he has all the other qualities I mentioned".
The move from Borussia Mönchengladbach to FC Barcelona was a "very important step forward" for the player. "It is a personal challenge that I think I am capable of dealing with. FC Barcelona is one of the biggest clubs in the world and has enjoyed a lot of success in recent years. They didn't get any titles this year, but I hope they do in the future. It's a dream come true for me." Although other clubs were reportedly interested in his services, there was never really any question in the player's mind that this was the place for him. "Barça is on a different level. It's a team with such a long tradition and I never really considered any other options" he said." [[CITA_1]]Ter Stegen has spent his entire career at Mönchengladbach, and it's a club that will always be dear to him. He reiterated his gratitude to the Bundesliga club for being so supportive of his wishes throughout the long negotiation process with FC Barcelona. Zubizarreta and vice president Jordi Mestre also thanked Borussia for facilitating the deal, which was eventually closed for a sum of 12 million euros.
Ter Stegen was asked to name his influences, and being German it was impossible for him not to mention the name of Oliver Kahn. "When you're young, you need a goalkeeper like him to inspire you" he said. "He was one of the best keepers ever. But at the end of the day, you have to create your own style, and that's what I did. Now it's time to take it a step further."
It was also impossible to avoid mention of the man he is replacing, who will officially leave FC Barcelona on June 30. "Víctor Valdés is a spectacular goalkeeper who has done a lot for this team and won loads of titles over the years" said the 22-year-old. "He always performed well and deserves a good farewell. But right now, it's time for me to start thinking about my own work."
One thing ter Stegen mentioned several times was how confident he is that his style will adapt to the demands of FC Barcelona. "I know where I am coming to and I am delighted with the challenge it presents" he concluded. "I want to adapt to being here. I think this'll be a nice home for me."
FC Barcelona is a great club with a long tradition and I never really considered any of the other options