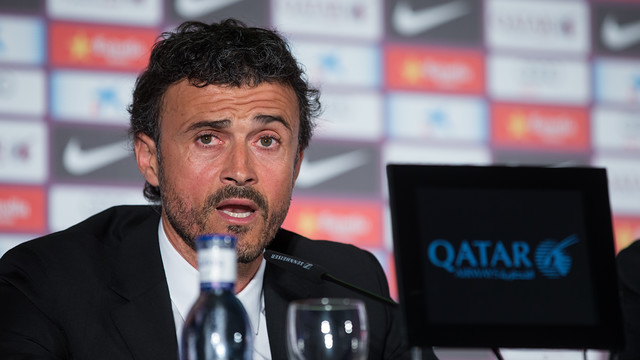 On his presentation this lunchtime, Luis Enrique explained: "I am aware of the responsibility and the difficulty of the job, but I can't wait to hear the Barça anthem and enjoy the feeling"
Luis Enrique Martínez was officially presented as the new first team coach this lunchtime and he started his job with an upbeat message for the fans:. ""This is a very special day. We are beginning the building of a new, exciting Barça".
The new boss also made clear the kind of football he'll be bringing: "My team will attack, we'll play attractive and effective football – the kind of football that millions across the world have come to love – which means we need to defend well too. I'll be laying ourt my plans to the players and talking to them so that they take them on board as their own. I don't think I'll need to impose very much and bark out orders, we're in this together , though I'll be demanding hard work"
Luis Enrique continued: "the best thing is enjoying the training sessions and this lovely job we have, getting something out of each day we are at work. I'll be looking for plenty of hunger from the players and they'll have to show me that everyday".
More to follow.
LUIS ENRIQUE SPECIAL CONTENT