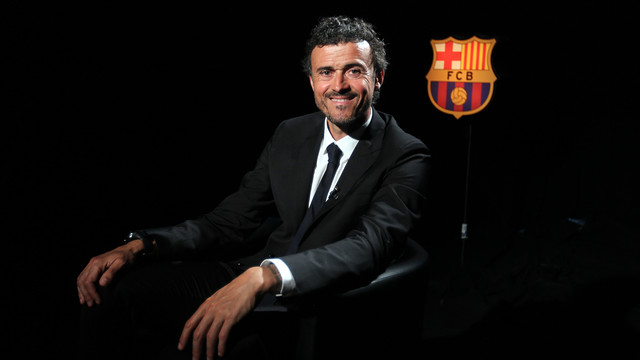 The new FC Barcelona manager sits down with Barça TV and the Club's official website to talk about his plans for the team next season
The Asturian explains that "the fans will identify with me if we win titles"
Question: When you left Barça B you said you didn't think you'd ever come back. Did you really think you'd never return to the Camp Nou?
Luis Enrique: Coaching Barça has never been my objective. It's something so beautiful and so hard to achieve that it's just too complex to strive for. I prefer to take it one step at a time. It's true that when I left Barça B the Club told me that the doors were always open to me, but I understood that as an acknowledgement to my service to the Club, but not something that was realistic. In my case it's been helpful to not think about it because things that should happen end up happening. I've worked hard to do good things in other teams and in the end, without looking for it, I'm here again. I think it was a positive thing to not set big goals for myself, because the most natural thing is for them to not happen – I prefer to live in the present.
Q: Signing for Barça is always complicated, but your experience as a player and the three years you spent with Barça B, did those things help you get the job?
L.E: I think they were very helpful because in the players know that I've been in their position. It also helps me personally, because I know the culture here, even though it's changed considerably over the years. I don't know the new Masia, the installations at the Ciutat Esportiva are fantastic, the Camp Nou is still spectacular, etc. My past experience here is helpful.
Q: As a player you were loved by the fans. Do you think you'll have the same relationship with them as a manager?
L.E: I would love that, but it's easier to achieve that relationship as a player because the fans can see your effort and hard work. As a manager you have to make decisions and I'm sure that I'll make mistakes. It will be very easy to win the fans over if we win titles, just like with any manager in the world.
Q: As a player you were managed by Robson, Van Gaal, Serra Ferrer, Rexach, Antic and Rijkaard. Which one are you most similar to?
L.E: I've learned from all of them, both in footballing terms and personal terms. Each manager is unique that way. I have to be loyal to the way I work, to the way I view football, and that's what I have to do with my players: impose my view of life and football, to go to different stadiums and represent a unique and incredible Club, and prove to them that they are in the best profession in the world. I have to take advantage of the complicity that I have for being a former footballer and get the best out of my players.
Q: Do you want the Club to be patient with you, or do you believe that you have to win from day one?
L.E: The only thing that matters here is the present, and Barça's present demands that the team win and it must be done attractively. We are going to take advantage of all of the time we have during the preseason to help the players. These players, the vast majority of them, will be in the World Cup and they'll come back to Barcelona in early August. With these conditions, we have to do our best to do well from the start, I'm aware of this.
Q: Will the players and fans be surprised by your decisions to change the way things have been done in recent years?
L.E: I don't know, but I remember when I was the Barça B coach that I had the habit of giving keepers six consecutive starts in goal. That's a bit more complicated to do in the first team. What I try to do in my job is not erect barriers for myself because of how things have been done by others in the past. We value what is right in front of us, and if we believe there's another way of doing things, that's what we do. I will do what I consider to be beneficial for the Cub, and from there the results will show if I was right in my decision.
Q: Will you delegate the task of managing players to the captains?
L.E: This is fundamental, because the captains represent the players. A captain isn't just the guy who gets to lift a cup or shake hands with the ref, he's much more than that. There's a collective responsibility and the captains are fundamental when it comes to communicating with the players. I know the profile of a Barça captain. They are the main protagonists and they should feel comfortable in the role, that's what we will work toward.
Q: You've managed Barça B, what will your relationship be like with the reserve team?
L.E: Eusebio and I will talk about it. Wherever I've gone I've enjoyed working with the youth players, including players from the Juvenil age bracket (+18). I understand that communication with the reserve team and players needs to be very fluid, that I put myself in the reserve team's coach's shoes, that I understand his needs – I want communication between the two teams to be as open as possible.