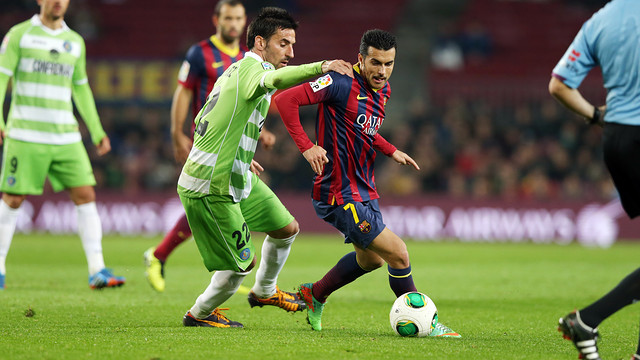 La Liga is drawing to a close with three clubs still vying for the title. This weekend's action involves FC Barcelona v Getafe, Levante v Atlético Madrid and Real Madrid v Valencia
There are just three games left in La Liga, and things are as tight as ever at the top. Atlético Madrid still lead the way with 88 points, with Barça four behind on 84, and Real Madrid third with 82. However, Real have a game in hand on the top two, away to Valladolid next Wednesday.
This weekend sees three crunch fixtures in the most fiercely competitive title race that la Liga has seen for years. Barça play first, at home to struggling Getafe on Saturday (4.00 PM CET). Then on Sunday, Atlético travel to Levante (5.00 PM CET) and two hours later, Real have a tough challenge as they entertain Valencia at the Bernabéu (9.00 PM CET).
Gripping finale
Theoretically, Atlético could clinch the title this week, should they win and their two rivals lose. It goes without saying that both Barça and Real will be fighting tooth and nail to make sure that doesn't happen. But matters are out of their hands. Should Atlético win their next two games, they'll be champions regardless of what the other two teams achieve, and the potential last-day showdown between Barça and Atlético at the Camp Nou will be irrelevant. For Barça, it's now a question of making sure they win their remaining games and hoping either Levante or Malaga can do them a huge favour.
Following Madrid's midweek match this week, the remaining two sets of fixtures will all be played at the same time in order to avoid any teams gaining the potential advantage of knowing what they need to do. It's also worth remembering that Barça's two rivals also have to deal with the potential distraction of the Champions League Final at the end of the season.
Here's a reminder of Atlético, Barça and Real's remaining fixtures:
| | | | |
| --- | --- | --- | --- |
| | | | |
| J36 | LEVANTE (A) (4/5) | GETAFE (H) (3/5) | VALENCIA (C) (4/5) |
| J34 | – | – | VALLADOLID (A) (7/5) |
| J37 | MALAGA (H) (11/5) | ELCHE (A) (11/5) | CELTA (H) (11/5) |
| J38 | BARÇA (A) (17 or 18/5) | ATLÉTICO (H) (17 or 18/5) | ESPANYOL (H) (17 or 18/5) |
*Home fixtures in bold type.