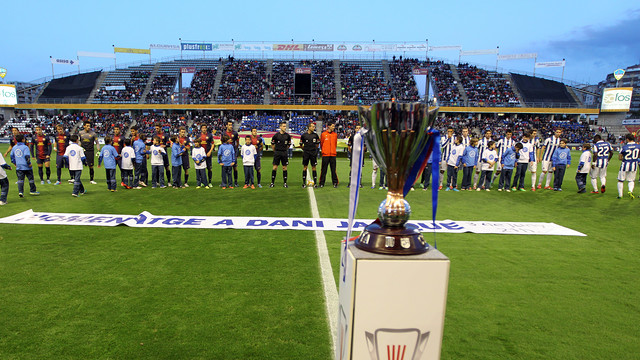 FC Barcelona will feature in the semi-final of the Catalonia Cup against Girona
FC Barcelona will play for La Liga title this Saturday at 6:00 PM CET against Atlético Madrid. But before that, Barça will feature in the semifinal of the Catalonia Cup. The match will be played this evening at 9:45 PM CET away to Girona. A few minutes beforehand, there will be a tribute to Tito Vilanova, who passed away on April 25.
The winner of the match will face the winner of the other semi-final between Espanyol and Sabadell in the final on May 21.
Chance to defend the title
Therefore, in the event Barça defeat Girona, who are fighting to get out of the Segunda A relegation zone, the team will have the chance to win the Club's eighth ever Catalonia Cup, and defend the title they won last season against Espanyol.
The players that will travel to Girano are Isaac Cuenca plus a combination of Barça B and Juvenil A players (Bañuz, Ortolá, Patric, Ilie, Dongou, Espinosa, Babunski, Bagnack, Samper, Denis Suárez, Dani Nieto, Lucas, Adama, Munir, Godswill, Riera and Kaptoum). The manager will be Eusebio Sacristán.