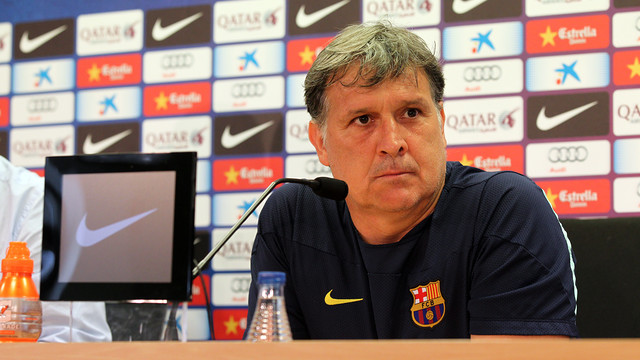 "We're happy we were mistaken when we said we'd given up on the league" said Gerardo 'Tata' Martino today. "But anything can happen in football"
He adds that that if FC Barcelona are still in the title chase, then that's down to our own merit"
Barça have two games left that will decide the title. A series of unexpected results mean they are no longer depending on other results going their way, but they still have to beat Elche if they're to have a chance when they face Atlético on the final day. Gerardo 'Tata' Martino spoke about the surprise turnaround in affairs at today's press conference. "We are aware that we've been handed a unique opportunity" he said. "But the games still have to be played. You can't just assume we're going to win because that would be disrespectful to our two remaining opponents".
[[CITA_1]]
After drawing with Getafe, everyone assumed that Barça's title bid was over, Martino included. "We are happy we were wrong" said the coach. "But anyone would have thought that. Now we're just happy to have a chance again … But we must remember that Elche are very strong at home and need the points to stay up".
The Argentinian refused to accept that his team have been lucky. "If we're in this situation it's because we deserve to be here" he insisted. "Just like the other teams in the hunt. We gave away the lead to hand other teams a chance, and now outside results have given us new opportunities. I'm not surprised with the way the league has turned around because this is football and anything can happen".
[[CITA_2]]
He's opted to take his full squad with him to Elche, bar Valdés who is staying in Barcelona to recover from injury. Martino reiterated that none of Piqué, Jordi Alba or Neymar are fit to play "but might be against Atlético. We'll wait and see how things develop." He ended by saying that he has not had to do anything special this week to change his team's focus or attitude. "There has been no need for me to get them to reconnect" he said. "It was the situation in la Liga and their own ambition that did that."
We are aware that we've been handed a unique opportunity. But the games still have to be played
We gave away the lead to hand other teams a chance, and now outside results have given us new opportunities