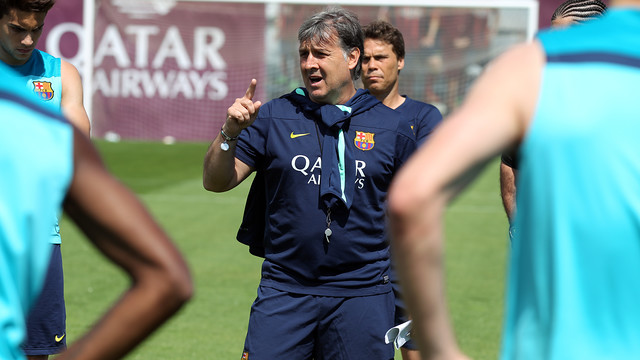 The FC Barcelona manager believes Saturday's meeting will be very different to the five games the club have already played this season
He reiterated the importance of scoring first against Atlético, a side that can defend a lead so well
Ahead of Saturday evening's crunch fixture with Atlético Madrid, Gerardo Martino has said that "my heart and soul are set on winning the league." And that's mainly because of his players who "have had a difficult year. They deserve this because of their dedication, fighting spirit and courage".
He wanted all of his squad to be part of the final game of the season, including Alba, Piqué and Neymar, who have been given medical clearance to play. "They might not all be in the best condition, but this is not a case of playing six games in a row. Just one. I want to stress how hard they have worked to be here, the effort they have put into it, and the bravery they have shown knowing that the World Cup is just around the corner".[[CITA_1]] Tata Martino is making no promises that any of the trio will actually play on Saturday, but did say that "there has not been a single game this season where I haven't felt that I have been unfair to certain players when picking my starting elevens,"
As for the game itself, Martino once again spoke about how important it will be to score first against Atlético Madrid, a point he already made before previous meetings with the same side. "Teams that play like Atlético are much more uncomfortable when they have to come from behind than they are when they are winning. Yes, they did come from behind to beat Chelsea, in the Champions League semi-final second leg, but that hasn't always been the case."[[CITA_2]] Barça have played Atlético five times already this season, and not once have they gone into the lead, but in a game in which nothing but the three points will do, it's time to break that pattern.
However, Martino insists that the game at the Camp Nou tomorrow will be a very different affair. "It is not the kind of game where you have to worry about previous meetings" he said. "The emotions will be very different to what they were like in the other games."
Tata feels two factors are of particular importance for this match. First, Atlético only need a draw, and second is the advantage of playing at the Camp Nou. And the Barça manager would much rather settle for the latter advantage than the former.[[CITA_3]]And if Barça do win the championship, he feels it will be a very different vibe to the previous editions. "It would be the first title playing football normally" he admitted. "With suffering, battling and dissidence. That has a lot more to do with normal football than what this team has been doing in recent years. That was extra-terrestrial!"
Martino ended by mentioning the two players that are most in the news at the moment, Carles Puyol and Leo Messi. The former officially said farewell to his playing days at the club on Thursday and the Argentinian thanked him "for the impression he has left at this club. I'm sorry I was not able to manage him for as much time as I would have liked".
And on Leo Mess, who has just come to agreement for certain modifications to his contract, he said that "whatever is good for Messi is good for Barça. It's good news for both".
Teams that play like Atlético are much more uncomfortable when they have to come from behind
It would be the first title playing football normally, with suffering, battling and dissidence
I'm sorry I was not able to manage Puyol for as much time as I would have liked