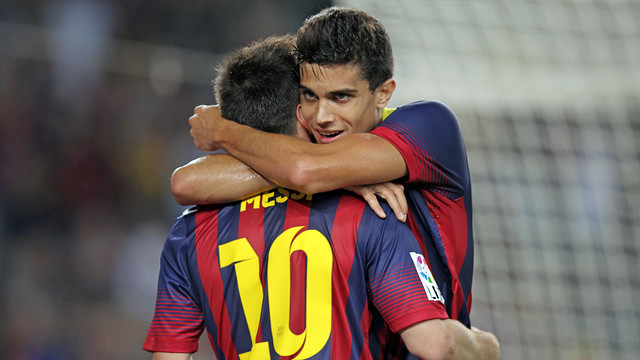 The center back equals his record for consecutive times being named to the starting team with FC Barcelona
Marc Bartra is becoming a very important player for the first team. This year he's featured in 29 games, which betters his mark from last year's 16 appearances, and two appearances from two seasons ago and five appearances from three seasons ago. With the arrival of Gerardo Martino to the bench, in addition to the injuries that Carles Puyol and Gerard Piqué have sustained, Barça's No.15 has consolidated his position on the team.
In addition, Bartra has equaled his record of being named to the starting team. He's featured for Barça in the team's last four consecutive matches from the start (Real Madrid, Athletic Club, Villarreal and Getafe), a feat he first accomplished at the beginning of the season (Almería, Celtic, Valladolid and Osasuna).
In fact, the center back might have started in the team's last seven games but an injury to his right leg kept him off the pitch.
Contract extended through 2017
Marc Bartra recently renovated his contract through 2017. In Elche, a do or die match for the league title, he could get named to the starting team and establish a personal best in terms of consecutive games being named to the starting XI.