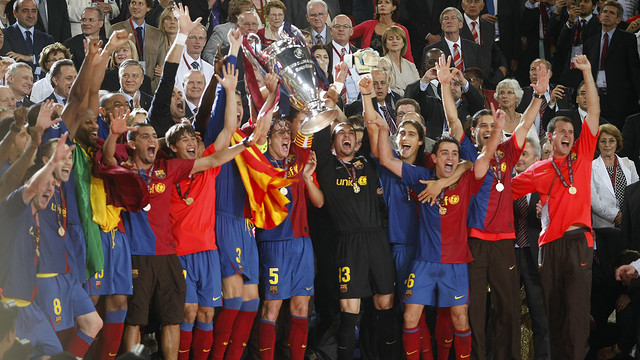 Pep Guardiola's Barça claimed the Club's third Champions League title five years ago today (May 27, 2009)
In the final played in Rome, the Blaugrana defeated Manchester United by 2 to 0 thanks to goals from Eto'o and Messi
This Tuesday, 27 May, is the five-year anniversary of Champions League title won in Rome against Manchester United. The team managed by Pep Guardiola reached the final thanks to Iniesta's miracle goal in Stamford Bridge in the second leg of the semi-final tie against Chelsea.
Barça were not able to call on Abidal, Márquez and Alves in the final. Regardless, Guardiola's team deactivated Cristiano Ronaldo, the Red Devils' biggest weapon. Samuel Eto'o, on 10 minutes, scored the go-ahead goal. 60 minutes later it was Leo Messi who made it 2-0.
That night Barça lifted its third Champions League title after winning the trophy in 1992 in Wembley and in 2006 in Paris. It was Guardiola's first Champions League in his managerial career, he would go on to win the title in 2011 in another final against Manchester United.
In addition, the title was the final trophy of the historic treble-winning 2008/09 season. It was the first and only treble won (league, Cup and Champions League) in Spanish football history.