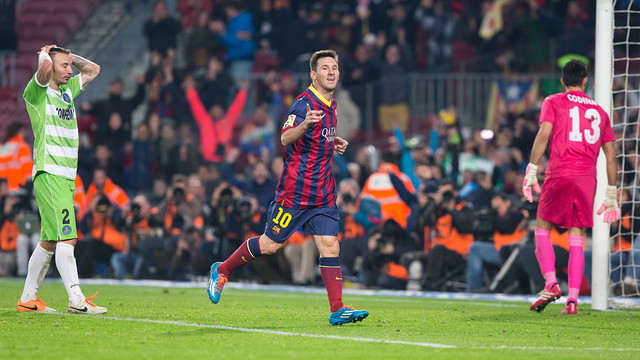 4.00 PM CET: Barça are fighting to keep the Liga dream alive on the day that the Camp Nou pays homage to Tito Vilanova
Both sides are mising key players for a game of major relevance to the top and bottom of the table
Barça entertain Getafe in the first fixture of this weekend's Liga programme, and with just two more games to play after this, time is running out in the title race. There are three teams still in contention for the coveted trophy, but Atlético Madrid will be champions if they win their next two matches. All Barça can do is beat Getafe and hope that it puts some added pressure on the leaders, who travel to Levante on Sunday. But they also need Real Madrid to drop points – with the all-whites at home to Valencia in Sunday's late evening kick-off.
Unchanged eighteen
Gerardo Martino has picked exactly the same squad as the one that staged such a spectacular comeback at Villarreal a week ago. That means that although Cuenca is back to full fitness, he will sit this game out, as will the injured Valdés, Piqué, Puyol, Alba, Dos Santos and Neymar.
Getafe have fitness concerns of their own to worry about. Lisandro, Pedro León (their top scorer), Diego Castro and Ciprian are all side-lined, although manager Cosmin Contra can welcome back Alexis, Lago and Lafita. With just two points between them and the relegation zone, the Madrid based side are in desperate need of a win to continue their ten-season run in the first division.
Tito remembered
The game also offers supporters the chance to honour the memory of the late Tito Vilanova, in the first game at the Camp Nou since the death of the former FCB manager. The club has organised a pre-match ceremony to be shared with the fans, and the players will be wearing a special commemorative shirt with the words 'Tito, per sempre etern' (Tito, forever eternal) on the chest.
Images of Tito's life and career will be shown on the video scoreboard, and when the club anthem plays, a huge mosaic will be created in the terraces. Finally, stadium announcer Manel Vich will introduce a minute's silence in his memory.