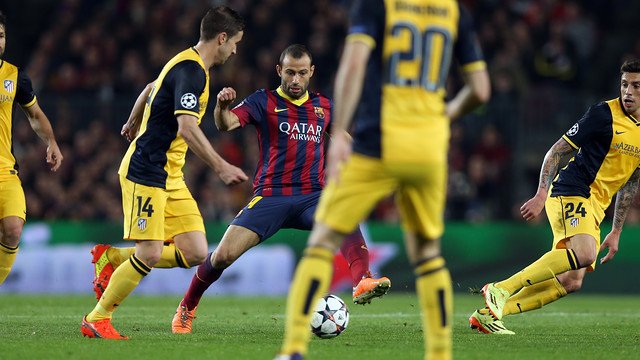 The last six league games between Barça and Atlético at the Camp Nou ended in victory for Barça
Alves, Alba, Mascherano, Sergio and Xavi have started in all five matches this season against the Colchoneros
This Saturday will decide the outcome of La Liga. Barça and Atlético Madrid will face-off for the title at the Camp Nou at 6:00 PM CET. Here's a collection of stats and facts about this weekend's league finale.
In all competitions, Barça have hosted Atlético 106 times, of which the Blaugrana have won 60 matches, tied 27 and lost 19.
This year the two teams have played against each other on five occasions, with a balance of four draws and one victory for Atlético.
Five Barça players started in the five games against Atlético. They are Alves, Mascherano, Sergio and Xavi.
FC Barcelona have won their last six games against Atlético at the Camp Nou. Since the 2006/07 season, when the end result was 1-1, Barça have won 3-0, 6-1, 5-2, 3-0, 5-0 and 4-1, respectively.
FC Barcelona have scored 99 goals in the league this season, 23 more than Atlético Madrid. The Madrid-based side, however, have conceded fewer goals (25 to 32).
At the Camp Nou will see two of the league top three scorers. Messi (28) and Diego Costa (27), both of whom trail Ronaldo on the goal-scoring table (31).
Martino have won 16 games, tied one and lost one league match at the Camp Nou. Atlético's away record stands at 13 victories, one draw and four defeats.
The Argentinian manager will go up against his compatriot Diego Simeone. They first met on the pitch when they were both players.
In 1988, the Barça manager played for Newell's Old Boys and he was shown a red card for a tackle on Simeone. Interestingly, Simeone was later ejected from the game as well.
The following season, both players with the same teams, Simeone scored the match winning goal (0-1) in the first league showdown, Martino scored the tying goal in the second match of the season between the two teams (2-2).