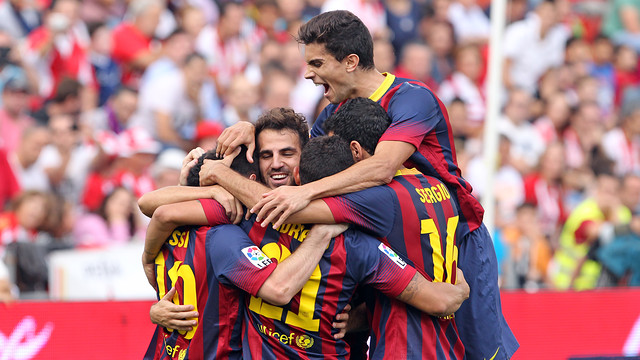 Messi (28), Alexis (19) and Pedro (15) were the leading scorers for FC Barcelona this season
2013/14 Liga goalscorers
28 Messi
19 Alexis
15 Pedro
9 Neymar
8 Cesc
4 Xavi
3 Iniesta & Adriano
2 Piqué & Alves
1 Busquets, Tello, Puyol & Bartra
There were also three own goals scored by Betis (1) and Villarreal (2)
FC Barcelona scored exactly 100 goals in La Liga 2013/14. It was the third season in a row that the first team reached three figures after setting a new record two years ago with 114 and stretching the record even further last season with 115.
14 different scorers
Of these 100 goals, 62% were shared by Messi, Alexis and Pedro. The Argentinian got 28, the Chilean 19 and the Canary Islander 15, and all finished in the top ten scorers in the championship. These tallies were personal bests for both Alexis and Pedro.
In all, 14 different players scored this season for Barça, with Neymar getting 9 and Cesc getting 8. There were also three own goals, one by Betis and two in the same game by Villarreal. 49 of Barça's goals were scored in the first half and 51 in the second, an almost equal balance.
Six goal-less games
FC Barcelona failed to score on six occasions, at Pamplona (0-0), San Mamés (1-0), the Vicente Calderón (0-0), Valladolid (1-0), Granada (1-0) and Elche (0-0). At the Camp Nou they managed at least one goal in every game.
On an amazing thirteen occasions Barça scored four or more times. That was in the games against Levante (7-0), Rayo (0-4), Real Sociedad (4-1), Valladolid (4-1), Betis (1-4), Granada (4-0), Getafe (2-5), Elche (4-0), Sevilla (1-4), Rayo (6-0), Almeria (4-1), Osasuna (7-0) and Real Madrid (3-4).