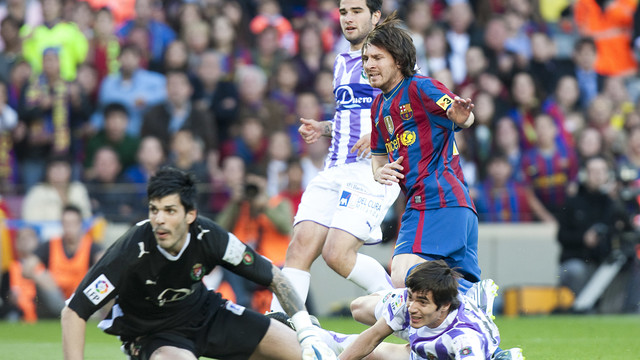 Down the years, the Club have ensured the title with five wins at Les Corts and six more at the Camp Nou
The 11 home wins that won the titles
AT LES CORTS
13 May 1945.
FCB-Athletic Club Bilbao(5-2)
11 April1948.
FCB-Athletic Club Bilbao (3-0)
17 April 1949.
FCB-Espanyol (2-1)
6 April 1952.
FCB-UD Las Palmas (7-0)
3 May 1953.
FCB-Athletic Club Bilbao (3-2)
AT THE CAMP NOU
17 April 1960.
FCB-Zaragoza (5-0)
7 June 1992.
FCB-Athletic Club Bilbao(2-0)
20 June 1993.
FCB-Real Sociedad (1-0)
14 May 1994.
FCB-Seville (5-2)
18 April 1998.
FCB-Zaragoza (1-0)
16 May 2010.
FCB-Valladolid (4-0)
If Barça claimed their fifth league title of the last six seasons by beating Atletico Mdarid on Saturday, it will be the twelfth time the Club have won the trophy on home soil, with five champions celebrations at the old Les Corts ground and six more at the Camp Nou.
Bilbao beaten four times
Four of those wins have come against the same team – Athletic Bilbao, who were the opponents when Barça took the title in the penultimate game of the 1944/45 season (5-2) and the final matches of the 1947/48 (3-0), 1952/53 (3-2) and 1991/92 (2-0) campaigns.
The Club's other two title claiming wins at Les Corts came against Espanyol in the last game of the 1948/49 season (2-1) and three years later in the penultimate match against UD Las Palmas (7-0).
Never against Atletico Madrid
The first time the team took the trophy at the Camp Nou was after a 5-0 win against Zaragoza in the final game of the 1960 season, but the fans had to wait another 20 odd years for another celebration, when the team crowned the 1992 campaign by beating Bilbao 2-0 and then did the same for the following two seasons, winning against Real Sociedad (1-0) and Sevilla (5-2) in the last games of the season.
Four years after that, the team again treated the Camp Nou crowd to a title celebration, when they again beat Zaragoza (1-0) with four games still to play. The last time was in 2010, when Valladolid were beaten 4-0 in the final match of the season.
Could Saturday be the first time Barça celebrate the title by beating Atletico Madrid at home?
FCB V ATM TICKETS