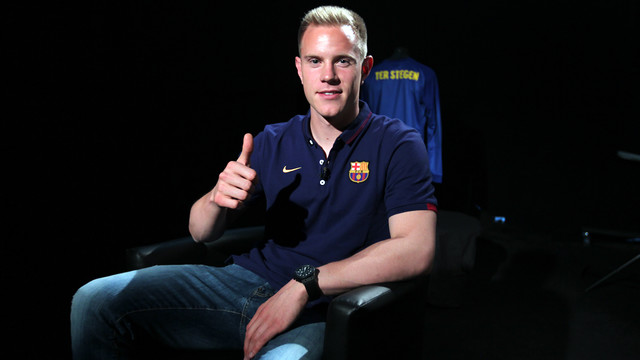 In an interview with Barça TV and fcbarcelona.cat com, he describes himself as "an ambitious keeper, I get involved"
On a personal note, he admits to being a bit fussy about his gloves, reveals an interest in licences and muses on the need to enter the Twittersphere

A closer look
Have you got any football superstitions?
"Not really. I'm just a bit fussy about my gloves but that's all. I'm a pretty normal person".
What about your gloves if you don't mind telling us?
"No, it's nothing at all. It's just that I take a lot of trouble to stop anyone else from wearing them. If I don't have to wear them any more then it's no problem. But if I still have to use them I prefer to keep them just for myself".
You're on Facebook, but not on Twitter or Instagram.
"Twitter is more popular here than in Germany. So is Facebook. It wouldn't be bad for me to have a Twitter account and give the fans the chance to get to know me better".
Did you talk to Alvaro about the match between Barça and Atlético?
"We had a last friendly match against Bergisch Gladbach. On the way back it was the first half and we watched it in the coach. We saw Barça's goal. Alvaro was supporting Atletico. It's a shame Barça didn't win".
What are your interests away from football?
"I'm trying to get as many licences as possible. But that's it. I try and do things like brushing up my foreign languages".
What licences do you mean?
"For stuff like sailboats and motorbikes"
On Thursday, Marc-André Ter Stegen got his first taste of life at the Camp Nou as the latest goalkeeper to join FC Barcelona. Speaking in an exclusive interview with Club media after his official presentation, he revealed just why he feels he has the right skills to take on one of the biggest jobs in European club football and the progress he's making in settling into his new life.
How does it feel to have signed for FC Barcelona?
"It's a really novel sensation for me to play in a different club. I'm delighted and looking forward to the job I have to do here".
Did you ever imagine you'd get to play for Barça?
"Barça has been a dream for me ever since I was a kid. It was, and is, the only option I considered. I've been given this chance and I'm really happy to be here, and I'm looking forward to getting out there on the pitch and playing".
People have been talking about you (signing for Barça) for months. Was it difficult not to say anything?"
"I had some important matches with Borussia Mönchengladbach and I concentrated on my job. I prefer to focus on the next game rather than on the future. You can do something about the here and now, but the future has still to come. I'm very happy to say that from next season, I'll be playing for Barça".
What are you looking for from your time at Barça?
"I hope we're successful. That's very important for the team and for me. I want to help the team keep growing. I want to show what I can do and give my team-mates the feeling that they've got someone who can do a good job covering their backs, and that I'm OK with that. I believe it's the perfect job for me".
What goals are you setting yourself?
"It'll be important to get used to the language. That's the most important thing. To make myself understood with the rest of the players, and I want to do that right from the outset. I also want to keep on getting better, adapting to the language and to a new culture. If I manage to do that, then I believe everything will be OK".
How long have you been learning Spanish?
"It's been difficult over that last few weeks. It was the final part of the season for Borussia Mönchengladbach and I was focussed on that because it was very important how I left there. So I haven't been able to do much about it in the past few months. But I'm trying to improve and I hope when I start training I will know a bit more than at the moment".
I suppose you were able to practice with Álvaro Domínguez and Juan Arango?
"Juan showed me how to write a bit. If you say things simply and slowly I can also understand a bit".
Do you think you'll be able to stand the pressure of having to win all the time?
"I know what I've let myself in for. I know all about that and by now I already know that people demand the best here and only winning counts. I'll do everything I can to help Barça triumph".
Barça didn't win anything this season. Is that an added incentive to do well?
"Yes, it would be great if Barça could get back to winning ways next season. Barça was in with a chance of winning the league title right down to the last game. Next season, I hope we get off to a winning start and can achieve great things".
How well do you think the Barça style of football suits your style as a goalkeeper?
"I believe my skills fit in well with Barça. There's no other team that plays this way. I really enjoy playing this kind of football. I believe we go together perfectly and I want to prove that in the future".
How would you define yourself?
"I'm very ambitious. I always want the best for the team and I work every day to achieve that. Both to improve personally, and help the team to improve".
What are your strong and weak points?
"I get involved in the action and take a few risks. Nowadays, I think it's become more common to run a few risks. That's my style. Obviously, you can always improve and there are always areas you can progress in. And this is the best place to do that".
You said in a press conference that Oliver Kahn has always been your number one. Why?
"I admire Kahn's obsession with winning matches. In his case, he put winning for the team before his own personal performance. He was so important for Bayern and achieved one success after another. I think that this obsession with wining was his main virtue.
What does it mean to take over from Valdés?
"He's had some amazing years here and has won a lot of titles with Barça. He's obviously left a big impression. He's had some incredible moments here. He's been a fantastic keeper and we should all take our hats off to him for what he's done for the Club. But now there's someone new and I'm looking forward to what has to come. Now there'll be a very different player in goal. I'll do things differently, but I hope to fit in well".
And what do you think about the new manager, Luis Enrique?
"He did a lot for this team. He won a lot. I think his own experiences can bring a lot to the team. If you were never a successful player, it's difficult to get some things across. So I think he's the perfect man for the job".
What do you think about playing alongside the likes of Messi, Iniesta, and Piqué?
"I'm lucky enough to be able to play in the team with the best players in the world. Better to play with them than against them. I think we've got great things ahead of us".
Did Álvaro Domínguez (ex Atletico) or Juan Arango tell you anything about the Spanish league?
"They told people are football mad here. I've always been focussed on what is important to me – and that's football. I live for football. It's always good to be informed but I don't need too much advice. Alvaro told me stuff about Atlético and that's good, but in the end it's your own experience that counts. I'm looking forward to it".
How does the Bundesliga differ from La Liga?
"Football in Spain is more stylish and faster. I can't say much else yet as I haven't played here, but it'll be good to see it. It's a pleasure to watch Spanish league matches".