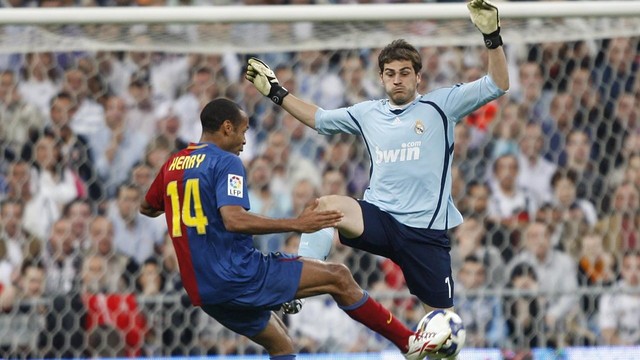 The French striker reminisces about a magical night that happened five years ago
"We created history, not only by winning six titles in a year but also for playing football the right way, the Barca way" he says
Henry says he misses everything about Barça and sends its deepest condolences for the loss of Tito Vilanova
In an exclusive interview with FC Barcelona, former FC Barcelona star Thierry Henry has described his memories of the 6-2 win at the Santiago Bernabéu five years ago. The Frenchman scored twice that night, and here he also speaks about his memories of playing at FCB and winning so many major titles, as well as expressing his sorrow about the death of Tito Vilanova.
Five years since the 2-6 at the Bernabéu. What memories do you have of that game?
"I can't believe its 5 years already, only seems like yesterday. I remember Puyol saying to me what to expect from the game even more so from our supporters should we win. Obviously the result was incredible as from that moment on we knew amongst ourselves we were going to win the title. When we arrived back in Barcelona after the game, the reaction from the supporters was simply incredible, something I have never experienced before…and this was before we had even won La Liga".
[[CITA_1]]
You scored two goals at key moments. Which was your favourite?
"Not sure I have one. To score 2 goals in Madrid in such a important game and to win the match was enough for me. The importance of the game was huge because it's Real Madrid and was vital that we won in order to be able to win the League. I was just delighted that my goals helped achieve that. Obviously I could never have done this without my team mates, it just so happened that night it was me that got 2 goals".
In general, how would you analyse Barça in that era?
"We created history and not only by winning 6 titles within a year but also playing football the right way, the Barca way. That Barca team will be remembered forever in the history of the game".
What do you miss about Barça?
"The club, the training, the fans, everyone that works within the club, the football, my favourite restaurant Da Greco haha, basically everything".
[[CITA_2]]
You have scored good goals in the MLS. Is life in the United States like a second youth?
"Living in New York was always a dream of mine and to be able to play in the MLS and help promote the league is an honour. I wouldn't say its like a second youth but for sure I am enjoying my time".
How do people live soccer in the USA?
"Soccer is still growing in USA but weekly you can see see it is growing in the right direction. Stadiums are definitely more crowded on match days than when I first arrived".
How do you think France will do at the Brazil World Cup?
"I hope we do well obviously but as you can imagine it is going to be hard. There are so many strong nations competing, Brazil, Spain, Argentina, Germany..I won't name everyone but as you can see it's going to be very hard".
[[CITA_3]]
What about Tito Vilanova…
"This was very hard news for me to hear. I saw him a few times in New York when he came for his treatment and have nothing but fond memories of him. A truly great loss of a great man and my heartfelt wishes go to all his Family".
Finally, do you have a message for your friend Cesc Fàbregas?
"Hahaha Cescky….help bring back the title to where it belongs".
The reaction from the supporters was simply incredible, something I have never experienced before"
I can't believe its 5 years already, only seems like yesterday. I remember Puyol saying to me what to expect from the game even more so from our supporters should we win
The club, the training, the fans, everyone that works within the club, the football, my favourite restaurant Da Greco haha, basically everything