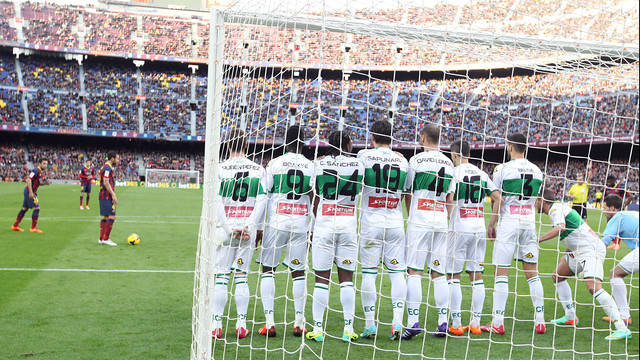 Barça, who depend on themselves, will play away to Elche in a match that could bring the league title that much closer to the Camp Nou. Kick off is at 7:00 PM CET
La Liga title will beep for grabs this afternoon at 7:00 PM CET. Expectations and the level of excitement around this weekend's games have reached fever pitch. Barça's cruel draw with Getafe (2-2) last week left the Blaugrana down and nearly out of the competition. Unexpectedly, however, the following day Atlético lost away to Levante (2-0) and Madrid drew at home with Valencia (2-2). Los Blancos, in addition, followed up their weekend draw with another loss of two points on Wednesday when they tied Valladolid (1-1).
After the unexpected results this week, and with two games left in the season, Atlético are on top with 88 points, Barça are second on 85 points and Madrid are third on 84 points. Therefore, Barça once again depend on themselves seeing that in the last match of the season the Blaugrana will host Atlético at the Camp Nou. But first Barça need to win the three points this Sunday against Elche.
A final
This evening's game at the Martínez Valero feels like a final. The whole team, with the exception of the injured Víctor Valdés, travelled to Elche. It's worth noting that Piqué, Puyol, Alba, Neymar and Dos Santos haven't been medically cleared to play.
It's also a final for Elche. The Alicante-based team are three points away from the relegation zone. Just as Barça, Elche manager Fran Escribá has called up his entire team for the match, even though he will not be able to use Toño or Botía (suspended) or Del Moral and Ñiguez (injured).