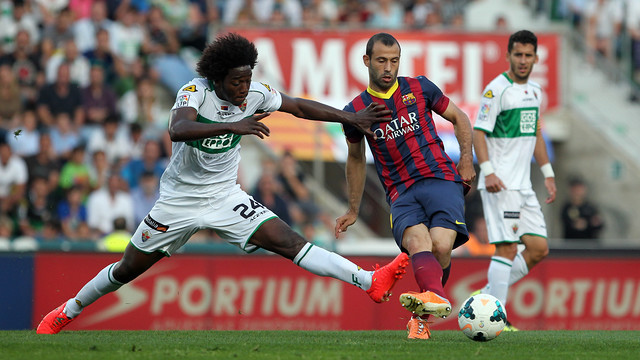 Second time this season the team have drawn two games on the run
The Elche match was game number 150 in a Barça shirt for Cesc

The goalless draw at the Martínez Valero stadium leaves the title race wide open. Below we look at some of the facts and figures from the game
This was the first game in nine that Barça managed a clean sheet – the last time was in the derby game at Espanyol.
The game was Barça's fourth goalless draw of the season, following the stalemates at the Camp Nou against Atletico Madrid (Spanish Super Cup) and the league games in Pamplona and at the Vicente Calderón.
It is the second time this season that Barça have drawn two straight games following the draws against Osasuna (0-0) and AC Milan (1-1). The game immediately after those two saw Barça beat Real Madrid 2-1 at the Camp Nou.
Barça have now failed to score in eight games this season – their highest figure since the 2007/08 campaign.
Alves (12) and Bartra (10) recovered most possession for the team .
With 99 league goals, Barça still need one more to reach the hundred mark for the third season on the run.
Cesc made it 150 games in a Barça shirt – 106 wins, 28 draws and just 16 defeats.
Alexis Sánchez has won 99 games with the first team – he could hit the hundred mark against Atletico Madrid – and has also drawn 24 matches and lost just 17.
Marc Bartra has now started each of the last five games for the first time since he joined the first team squad.
Leo Messi has started Barça's last 23 matches, with Javier Mascherano just behind him, playing in the last 16 games.
None of the players picked up a card which would have meant them missing Saturday's league decider.