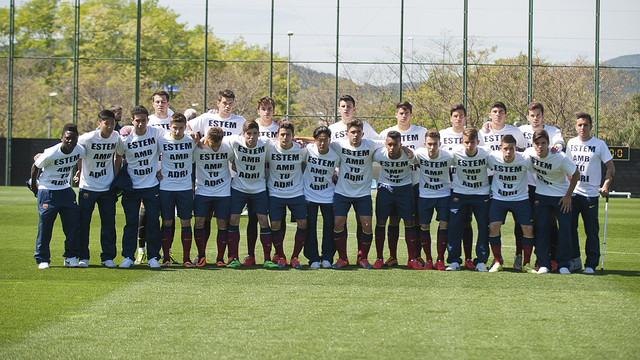 The Youth A team, for whom Tito Vilanova's son plays, visited the remembrance space at the Camp Nou this morning before their game at the Ciutat Esportiva.
Amongst the many people who have visited the remembrance space for Tito Vilanova at the Camp Nou, one of the most emotional was that of Javier García Pimienta's Youth B team, who came not just to pay their respects to an ex-first team coach, but also the father of one of their teammates, as Tito's son Adrià is a member of the side.
The youngsters paid their respects and then travelled down to the Ciutat Esportiva, where they played a league game against Mollet. Before the game began, all the players wore a t-shirt with the message 'Estem amb tu Adri' – "We are with you Adri" and then observed a minute's silence for Tito Vilanova. The side also dedicated their 2-0 win to their teammate and his late father.