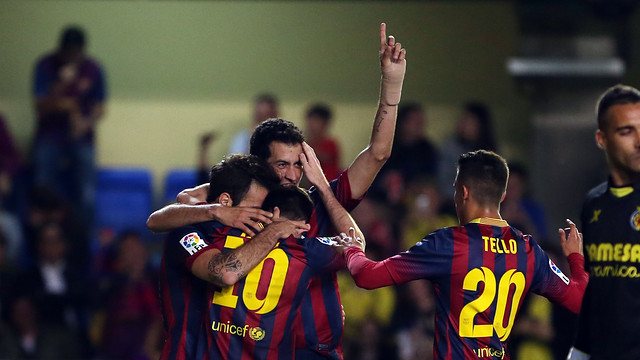 The team, full of pride, fought back from a two-goal deficit to claim the three points

Barça are still in contentn for the league title. The situation was critical in the Madrigal. Emotionally shattered by the death of Tito Vilanova and the two goals for Villarreal pinned Barça back, but two own goals and a third from Messi proved enough to win the three points.
Still saddened after the minute of silence in memory of Tito, the players started off just like their former coach would have liked: intense in pressure and dominating the game. Initially Messi was dangerous in the opening 15 minutes, but Asenjo stood in the Argentinian's way. Barça passed the ball with patience, while Villarreal's approach was quite the opposite. Their play was very vertical and fast, especially with the inclusion of Perbet Pereira. Under the direction of Cani, the Yellow Submarine created danger on Pinto's goal.
With accumulated men in the Villarreal area, the home team were proving difficult to overcome by the Blaugrana. The thought of shooting from distance didn't seem to be an option for the visitors, as Alexis proved the most dangerous for the Blaugrana as he penetrated the defence from the right. The game broke down in the final minutes of the first half, and the team that came out on the losing end was Barça.
First Bartra saved Aquinas goal almost on the line and then in the last action of the first half, Cani fired his team ahead after a quick counterattack. The 1-0 forced Barça to rebound in the second half. And, as in the first raid of Asenjo neutralized Messi (min 51) and saved another shot two minutes later. That's when the home team doubled their lead, when Trigueros scored the second with a flawless header.
Barca, now with Cesc and Tello on the pitch, were more incisive. The team pulled one back after a cross from Alves was deflected into goal by Gabriel (64 min). Villarreal could sense that danger of losing points was close. Then Barça equalised when Musacchio scored an own goal, again after a cross from Alves.
The Villarreal wall finally collapsed when a triangulation between Busquets, Cesc and Messi ended with a shot from the Argentinian to the back of Asenjo's goal. This team won't give up. This victory borne out of pride and courage. It could not end any other way, they could not fail Tito Vilanova.