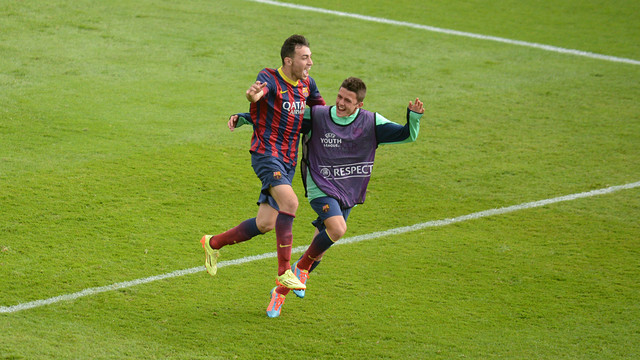 Barça's Youth A team face Befica in the UEFA Youth League final in Nyon this afternoon.
Barça are unbeaten in the competition so far, but face a challenging Portuguese side.
The Youth teams of Barça and Benfica meet this Monday afternoon(4.30AM CET) in the first ever UEFA Youth League Final at the Colovray Stadium in Nyon. Club President Josep Maria Bartomeu, sporting vice-president Jordi Mestre and board member Silvio Elías will all be at the game.
Barça unbeaten
Barça's Youth team go into the game on a run of good form which saw them beat Schalke 04 1-0 on Friday after wrapping up the domestic league last week. Jordi Vinyals side are unbeaten in the competition.
With five wins from six in the group stages, where they saw off the challenges of Milan, Ajax and Celtic, Barça cruised into the last 16 where they beat Copenhagen 4-1 at the Mini Estadi, before eliminating Arsenal 4-2 in the quarter finals.
Benfica pose a solid threat
Benfica are a strong side with a lot of alternatives: a solid defence, a compact midfield and a fast and effective attack who are capable of getting in behind opposition defenders.
Joao Tralhao's youngsters hammered Real Madrid 4-0 in their semi-final, but the coach isn't underestimating the task ahead for his players, telling UEFA.com: "we have to be sure we are well prepared for the game against Barça. It'll be a tough game against a very strong team. They have great players all over the pitch and even on the bench. They play with great style and we will have to be at our very best to beat them".
Similar stats

Like Barça, the Portuguese youngsters are unbeaten in the competition, having finished top of their group – which included PSG, Anderlecht and Olympiakos – with four wins and two draws. They beat Austria Vienna 4-1 at home in the last 16 and saw of Manchester City 1-2 in the quarter finals in England.
So, two strong teams will be facing up for what promises to be a great final this afternoon, with the winner able to claim the first ever UEFA Youth League title.