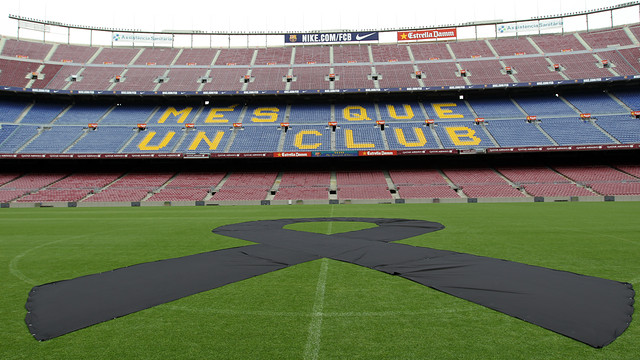 The Club has decreed three days of mourning for Tito Vilanova, who died aged 45 this Friday.
The Club has decreed three days of mourning following the death on Friday of Tito Vilanova. The flags at the stadium, the Ciutat Esportiva, other Club installations and the old Masia – where Tito stayed as a young foottballer -have been at half mast since Friday .
A series of tributes to Tito Vilanova will take place over the weekend. The first team will observe a minutes' silence ahead of their game in Villarreal on Sunday and the players will all be wearing black armbands. The Club's other sections will also be paying their respects, with all the games, at home or away observing a homage to Vilanova and every coach and board member wearing a black ribbon in their lapels.
The three day mourning period will end with a religious ceremony at the Barcelona Cathedral at eight o'clock in the evening, whilst a minute's silence will also be observed before the next home game and at all the games at the Palau and the MiniEstadi over the next few games.