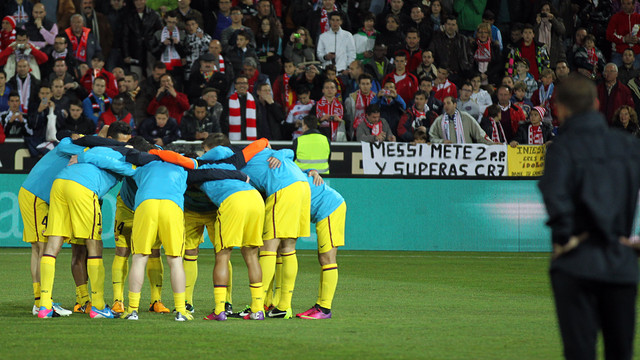 This Saturday, Barça are in the Andalusian city, where players like Rexach and Messi have made their mark in the past
Barça's record in league games in Granada amounts to eleven wins, four draws and four defeats. Most of these games date back to before 1976 and the old Los Cármenes stadium, where despite the Catalans usually getting the upper hand, some older fans still remember a historic trouncing of FCB in the 1940s. Here we look back at three particularly memorable games between the two sides on Andalusian soil.
1941/42: Love set in a tough season (1941/42)
Of the nineteen Barça trips to Granada, the first, a 6-0 win for the home side on February 15, 1942, is still the biggest. It was a difficult season for Barcelona, who ended up having to play a relegation play-off against Murcia in Madrid (which they won 5-1 with four goals from Mariano Martín).
---
1975/76: Win before 36 year gap (0-2)
On February 15, 1976, Barça won at the Los Cármenes with goals from Rexach and Marcial to break a run a five months without an away win. Granada would be relegated at the end of the season, and it would take them another 36 years before they returned to the top flight in 2011, now playing at the Nuevo Los Cármenes.
---
2012/13: Goal 300 for Messi (2012/13)
Last season, Barça got pout of a tight spot with a brace from Leo Messi. The home side had taken the lead through Ighalo, but one opportunist goal from the Argentinian, followed by a free kick by the same man, turned the game around. Those were the 300th and 301st of his goals for the first team, a tally that he has since extended to 351.