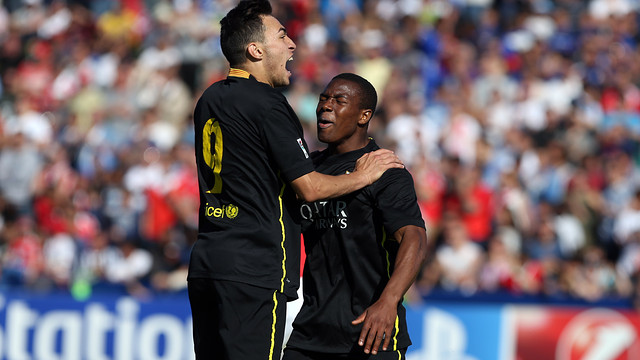 The team managed by Jordi Vinyals defeated Benfica in the final of the UEFA Youth League thanks to goals from Tarín and Munir (2)
MATCH FACTS
BENFICA, 0
JUVENIL A, 3
Benfica: Graça, Rebocho, Alex Alfaiate (Gomes, min 83), Joao Nunes, Rafael Ramos, Rochina, Estrela, Gilson Costa (Pereira, min 64); Romario Balde, Gonçalo Guedes and Nuno Santos.
Juvenil A: Ondoa, Godswill, Riera, Quintillà, Ortega, Enguene (Juan Antonio, min 72), Munir (Maxi, min 90), Tarin, Kaptoum (Ebwelle, min 88), Moha and Adama.
Goals: 0-1 Tarin (min 8), 0-2 Munir (min 32), 0-3 Munir (min 87)
FC Barcelona's youth system received another acknowledgement this Monday 14 April 2014 in Nyon, where the Juvenil A team clinched the first edition of the UEFA Youth League, the premier competition for this age group. The team managed by Jordi Vinyals once again offered up another show of power and talent as they defeated a very powerful Benfica side. The team took the lead in the first half, and finished the game off in the second thanks to a brilliant brace from Munir.
The match couldn't have started off any better for Barça. Just like in the semi-finals when Benfica beat Madrid 4-0, the Portuguese side came out swinging but an early goal from Tarín after a great play from Munir gave Barça the lead on 8 minutes. However, the Portuguese side didn't give up and they won a penalty four minutes later, but Bladé sent the ball to the crossbar.
Little by little the Juvenil A team shrugged off the pressure, and after the half-hour mark they netted their second. Adama completed a spectacular play and linked-up with Munir, who, like on many previous occasions in the competition, was lethal in front of goal.
In the second half, Benfica, incisive from the start, nearly pulled a goal back through Estrela, while Riera and Tarín did well to stop wave after wave of the Portuguese team's attacks. Benfica were taking risks, leaving space for Barça's quick forwards at the back – Adama (min 73) and Munir (min77) nearly killed the game off, and they would have if it hadn't been for Benfica's keeper Graça.
Ondoa's talent for goalkeeping was on display in the final minutes as the Portuguese laid siege to Barça's goal. And he'd share the glory with Munir, who clinched the title with the goal of the tournament. On 87 minutes, the forward noticed that Garça was well off his line so he fired on goal from well within his own half of the pitch. The ball sailed of the keeper and found itself neatly resting in the net. It was the perfect ending to Barça's UEFA Youth League campaign. The future is bright.