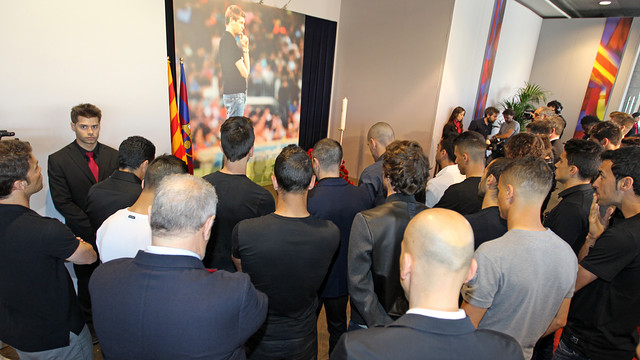 Players, coaches and the rest of the first team squad staff were the first visitors to the space the Club have set aside for tributes to Tito Vilanova at the Camp Nou
The first team squad showed their sadness and respect for Tito Vilanova this morning, visiting the space set aside by the Club for tributes to the ex-Barça coach who passed away on Friday after a long illness. Tata Martino led the squad, who were also accompanied by the rest of the first team staff and Sporting Director Andoni Zubizarreta.
After signing the book of condolence, the whole squad moved to face a large photo of Tito Vilanova, where they dedicated a few moments of pensive silence. It was a tough experience for many of the squad, who were visibly moved as they recalled the man who had coached many of them from his days as a youth coach, then as assistant to Pep Guardiola and finally as first team manager.
The Club Board, headed by President Josep Maria Bartomeu, followed the players in paying tribute to Tito Vilanova and then the doors were opened to the general public, so that members and supporters can also pay their respects.