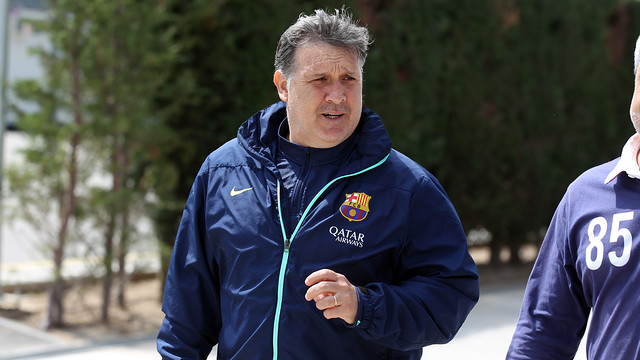 The FC Barcelona manager said that "we have suffered three tough blows in a few days, but it is our duty to keep fighting until the end"
He declared himself an admirer of Sunday's opposition, Athletic Bilbao, "a team that has been developing for a long time"
The Argentinian was also self-critical, saying that he was not happy with his work because "the results have not been coming"
After going out of the Champions League and losing the Spanish Cup Final, all that is left for Barça is la Liga, where they are no longer in such a strong position either. But Gerardo 'Tata' Martino insisted today that "the team will not give in." He acknowledged that "we have suffered three tough blows in a few days, but it is our duty to keep fighting until the end". Barça need a win against Bilbao on Sunday (9.00 PM CET) to keep alive their title aspirations, especially after leaders Atlético beat Elche 2-0 on Friday night to move seven points clear of the Catalans, and so "our only option is to get the maximum points from the five games we have left.
[[CITA_1]]
The Argentinian knows that these are not comfortable times for his players. "It is hard to keep our spirits up because we are not used to things like this" he said. "Nobody should think that this is something easy to get over … It is up to us to get the fans feeling enthusiastic about our football again and sticking with the team".
Martino described Bilbao, a side that is strongly poised for a Champions League berth next season, as "a team with a strong hierarchy. And we are going into the game after an awful week. We have to overcome both things … The Bilbao team has been developing for a long time, both under Bielsa and now with Valverde".
[[CITA_2]]
Tata Martino was also self-critical in today's press conference, saying that he cannot feel pleased with his work "because the results haven't been coming … But right now we just have to keep working because we still have a chance. My strength and energy have to be focused on this season, and no further."
We have suffered three tough blows in a few days, but it is our duty to keep fighting until the end
The Bilbao team has been developing for a long time, both under Bielsa and now with Valverde