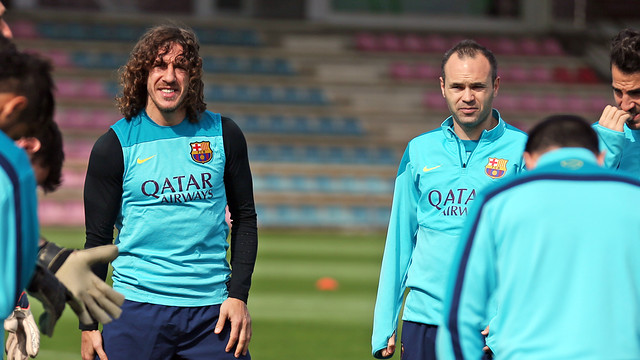 Puyol, who still doesn't have medical clearance, is in the 19 man squad for La Liga match this Saturday at the Camp Nou, against Betis (6pm CET)
Piqué, Valdés, Dos Santos and Cuenca, are all out injured, Jordi Alba is suspended, and Afellay has been left out for technical reasons
Squad list
Pinto, Olazábal, Montoya, Fàbregas, Puyol, Xavi, Pedro, A.Iniesta, Alexis, Messi, Neymar Jr., Mascherano, Bartra, Sergio, Song, Tello, Adriano, Dani Alves and Sergi Roberto.
19 players are in the squad for the match against Betis to be played this Saturday, uncluding Carles Puyol. The Barça captain, who still has not received medical clearance, trained with the team this Friday, and has been called up for the game. Piqué, Valdés, Dos Santos, and Cuenca are all out injured, Jordi Alba is supended, and Afellay has been left out for technical reasons.
This morning, the first team had their last training session in preparation for the La Liga match against Betis, which will be played at the Camp Nou at 6pm on Saturday. Puyol and Isaac Cuenca also trained with the group, as well as Barça B goalkeeper Jordi Masip.
The squad will meet up on Saturday at 12.25pm before taking the coach up to the Hotel Princesa Sofia.