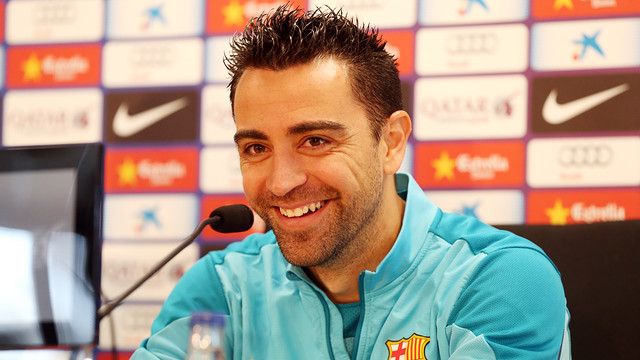 The midfielder hopes that Barça score first against Atletico to see "how they react" to something that hasn't happened in the previous four matches
He was emphatic about the FIFA sanction on FC Barcelona: "It's disproportionate and totally unfair"
Two days before the decisive game at Atletico Madrid in the second leg of the quarterfinals of the Champions League, one of the stars of the Barca squad, Xavi Hernandez, appeared before the media to explain how Barça are facing the challenge. "We hope to go ahead on the scoreboard to see how they react. This hasn't happened in the previous four games", he said. [[CITA_1]] The midfielder knows what they're up against "Atletico cut down the space, it's not easy to create chances, and we have to be fluent in the game and move the ball quickly. It's a really tough match". He went on: "We'd have liked to have gone there with a better result, but it all depends on us. We have to win and that benefits us because we're a team built to attack, but we are facing an opponent who is just the opposite".
"We're going there with tons of illusion and we'll try to be ourselves. We'll have to play really well" he acknowledged.
Momentous week
The game on Wednesday is the first in a demanding schedule. "It's a coin flip and one of us is going to be really disappointed. It's an important week as the match in Granada will also be tough, and then we have the Cup Final" Xavi said. Thus, Xavi labelled the Atletico match as "more important" than the recent visit to the Bernabeu in La Liga, when there was more margin of error.
On the other hand, Xavi was emphatic about the FIFA sanction on the Club. "In the dressing room, and the Club, we believe that the sanction is disproportionate and unfair. The Masia does everything perfectly correctly and we'll try to defend it to the maximum. We hope that it all comes to nothing", he said. Despite the initial shock, he said that the group almost comes out stronger from set-backs: "We've suffered so many blows this season but we still feel strong and competitive. These things unite the team".
Atletico cut down the space, it's not easy to create chances, and we have to be fluent in the game and move the ball quickly