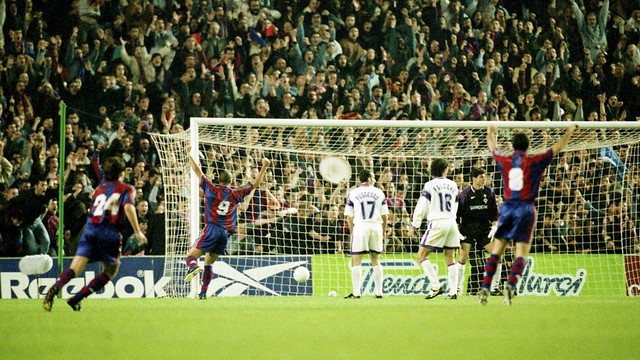 Barça have gone into five second leg European games after drawing 1-1 at the Camp Nou – and won the tie on three occasions
After the first leg draw against Atletico Madrid , we take a look at Barça's results of second leg games played after a 1-1 result at Camp Nou . The first time Barça found themselves in this situation was 25 seasons ago ( 1988/89 ) in the second round of the European Cup Winners Cup when they ended up beating Lech Poznan on penalties in the second leg .
The following season, in the knockout phase of the Cup Winners Cup , another Polish team , Legia , were Barça's opponents and after a 1-1 draw at the Camp Nou, the tie moved to Warsaw , where Barça won 0-1.
Two defeats
In the 1989/90 season, Barça drew 1-1 in the first leg of the European Super Cup against Milan, only to narrowly lose in the return game to hand the Italians the title.
The team again lost in the quarter finals of the 1994/95 season when after drawing 1-1 at home to PSG, they were beaten 2-1 in Paris.
Most recent result, a win
Two seasons later, Barça again failed to finish off a game at the Camp Nou, drawing 1-1 with Fiorentina in the semi-finals of the European Cup Winners, but this time goals from Couto and Guardiola gave them a ticket to the final in Rotterdam against PSG, which they ended up winning thanks to a Ronaldo penalty.