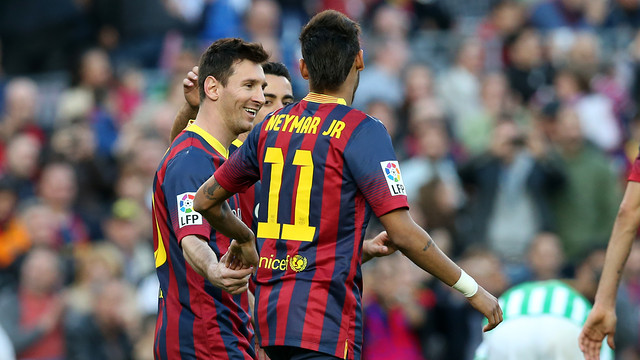 Messi, Neymar, and a Betis own goal are the total of Barça goals in the last four matches
Against Betis, Barça made 540 good passes against only 247 from Betis
Leo Messi scored twice, equalling Diego Costa in La Liga and now is only three behind Cristiano Ronaldo
Alexis and Xavi both hit the crossbar and Barça now have had 25 shots hitting the woodwork
Barça beat Betis with two goals from Messi and an own goal by Jordi Figueras. Messi and Neymar have now scored seven of the last eight Barça goals. The eighth was scored by the Betis defender. In the last four games the Argentinian and the Brazilian have shared the Barça goals. Here are some other stats from the 3-1 win at the weekend:
With his two goals against Betis, Leo Messi (25) is now tied with Diego Costa in the battle for top goalscorer in La Liga and is only three goals behind Cristiano Ronaldo.
Messi has now scored 24 gols in 2014 and has scored 12 in the last 7 matches.
Barça have now scored at the Camp Nou in 48 consecutive games. The last time Barça failed to score was against Sevilla in the 2011/12 season.
Xavi and Alexis both hit the crossbar. In the season up to now, Barça have hit the woodwork 25 times.
With the two penalties in their favour, Barça have now had 5 penalties given in their last 4 League matches.
Neymar provoked a penalty in the Bernabéu, another in Cornellà, and yet another against Betis.
Barça have scored 92 goals this season and are still the team to have scored most goals in La Liga.
Sergio Busquets took part in 108 moves, recovered the ball 16 times, and was the most active Barça player on the pitch.
Barça made 647 passes, including 540 successful ones, and 83,5% of the passes reached their target.
Xavi was the Barça player who made most passes, with 86. Only two of these passes failed to reach the player he was passing to.
Andrés Iniesta was the object of four fouls, and was the player who suffered most fouls in the match.
The 81.978 specators who were at the Camp Nou for the Barça v Betis match made up the second bggest crowd in La Liga this season. The biggest crowd was the one for the Clásico against Real Madrid.