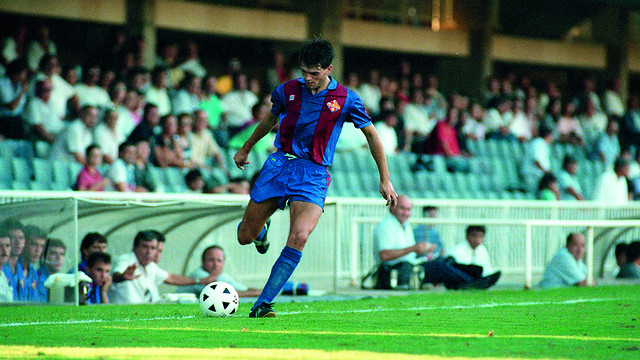 Both made their debut in a friendly in Banyoles on the 1st of May 1989
The match ended in a symbolic 2-6 score, although they weren't on the picth at the same time

May 1st marks the 25th anniversary of the first team debut of Tito Vilanova and Pep Guardiola. CD Banyoles faced FC Barcelona in a game that was part of the events of the 75th anniversary of the Girona club and ended with a very special result: 2-6. This scoreline had not been repeated in the club's history, either in official matches or friendlies, until 20 years and a day later, when it happened at the Santiago Bernabéu, with Guardiola and Vilanova now sitting together on the bench.
That game at the Banyoles Municipal Stadium was played just 24 hours after a great win at the Camp Nou against Oviedo (7-1) and only nine days before the Cup Winners Cup final in Berne which Barça would win against Sampdoria (2-0). Johan Cruyff only gave 90 minutes to two first team players (Carrasco and Soler) and picked lots of young players from Barça B.
Vilanova for Guardiola
A certain youth team player was called up and was in the starting line-up: he was called Josep Guardiola i Sala and made his debut with the first team. "You played even slower than my grandmother" Cruyff told him after the match. Guardiola started the match and played the first 45 minutes, and was substituted by Tito Vilanova, who was also making his debut, and who played the entire second half. They never played together on the pitch.
With a virtually full ground, FC Barcelona had few problems in beating the home team, who started the match with the theoretical substitutes. At half time, in not a spectacular game, as the match chronicles stated, Cruyff's team were in control with a comfortable 0-3, thanks to goals from Pozanco, Linde and Carrasco
The Dutchman made up to nine changes for the second half: Unzué, Herrera, Sergio, Emilio, Javi, Vilanova, Müller, Roura, and Altimira all came on. Roura and Altimira (2) were the other scorers in a game forgotten over time but which has maintained a huge symbolic power, for the debuts and the result