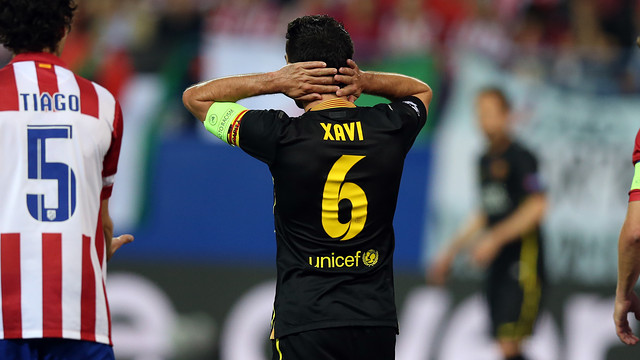 An early Koke goal denied Barça the chance of a seventh successive semi final appearance
Barça's dream of a Lisbon final came to an end at the Vicente Calderon tonight, when a combative Atletico Madrid beat them 1-0. The hosts' early goal and their whirlwind start really set Barça back, but Martino's side fought their way back into the game and had their chances to draw level. However, Simeone's side stood firm and Barça bowed out of the Champions League.
With Diego Costa not even on the bench, Barça's hopes were pinned on an early goal, but Atletico came out of the traps the faster and for the first 18 minutes they ran Barça ragged with a Koke goal and three shots against the woodwork. Barça had no answer to Atletico's attacking energy, their intensity or their aggression, though in the midst of their hosts' avalanche of attacks, Messi came close with a near past header that flashed just wide.
By the 20th minute mark though, Barça had grappled back control and recorded 74% of possession leading up to the break, though they were finding it hard to translate that domination into clear cut chances. Messi saw a shot go wide on 23 minutes after some great work on the left by Neymar and Cesc had a decent shout for a penalty two minutes before half time, but in truth, Barça were lacking pace and clarity in their game.
After the break, Barça strengthened their grip, dominating possession whilst the well organised Atletico sat ever deeper. Martino's side had three great chances to draw level: first a double chance for Netmat and Xavi (min 59) and then another effort from the Brazilian that went agonisingly close with Courtois beaten.
Just when Atletico seemed as if they might be running out of steam, Simeone sent on Diego and the sub nearly finished off the tie, only for Pinto to come to Barça's rescue with a brave stop. Barça were finding it tough to get the ball to Messi amongst the packed Atletico defence and the Argentinean was forced deep to get on the ball. With the middle of the pitch being crowded out, the wings were also proving fruitless for Barça and Atletico sat tight to earn themselves a place in the semis and deny Barça their seventh successive appearance in the last four of Europe's top competition.