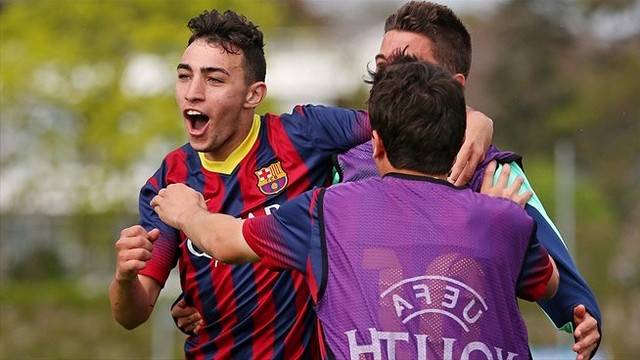 FC Barcelona have beaten Schalke 04 in the semi-finals of the UEFA Youth League and will face Benfica for the championship on Monday
Adama was outstanding down the right and Munir scored the only goal of the match
LA FITXA DEL PARTIT
Schalke 04, 0
Juvenil A, 1
FC Schalke 04 (0+0): Wellenreuther, Koseler (Avdijaj, min 77), Friedrich, Starke Hedlund, Neubauer, Itter (Bodenröder, min 84), Müller, Multhap, Pick (Lohmar, min 80), S. Sané & Platte.
Juvenil A (0+1): Jose Suárez, Godswill (Palencia, min 82), Riera, Rodri, Quintillà, Ortega, Kaptoum, Enguene (Ros, min 90), Adama, Maxi Rolón (Moha, min 69) & Munir.
Goals: 0-1, min 71, Munir.
Referee: Pawel Raczkowski (Poland, asisted by Marcin Borkowski & Paweł Sokolnicki). Yellow cards for Koseler & Sané of Schalke, and Quintillà, Kaptoum & Rodri of FCB.
FC Barcelona are through to the first ever final of the UEFA Youth League. In today's semi-final in Nyon, the side coached by Jordi Vinyals outplayed Schalke 04 with some very attack-minded tactics. Adama and Munir were the stars of the show, but the midfield and defence also posted solid displays. The final is on Monday 14 at 4.30 PM CET against Benfica, who slammed Real Madrid 4-0 in today's other semi.
Twenty patient minutes
Barça made their intentions clear from the start, but Schalke 04 held them at bay and created plenty of danger on the counter attack. Maxi Rolón came close for the Germans after six minutes, but FCB keeper Suárez turned the ball behind for a corner, and was called upon again in the 12th minute to make a providential save, this time from a Sané effort.
But after a dicey first 20 minutes, Barça started coming into their own. They began to dominate the midfield and soon enjoyed two close chances of their own. Kaptoum twice found gaps in the Scalke defence, but Wellenreuther managed to get in the way of both attempts.
Adama and Munir on show
The second half saw further improvements to FC Barcelona's game. Adama started creating serious danger down the right, while Munir was finally finding the space he needed in the middle, but despite a series of efforts, the impressive German keeper was proving nigh on impossible to beat.
However, Barça kept pressing, and finally got their reward. Moha, seconds after coming on as sub, went on a wonderful solo run down the left and crossed to Munir who came through at the far post to strike the ball home. For once, Wellenreuther was nowhere to be seen.
Confident ending
Adama, Munir and Moha continued creating problems for Schalke, and with their colleagues looking tight at the back, Barça looked more likely to extend their lead than the Germans did to equalising – but there was no further score. The first edition of the UEFA Youth League could well end in a famous triumph for FC Barcelona. Now only Benfica stand between them and the trophy. All will be revealed on Monday.