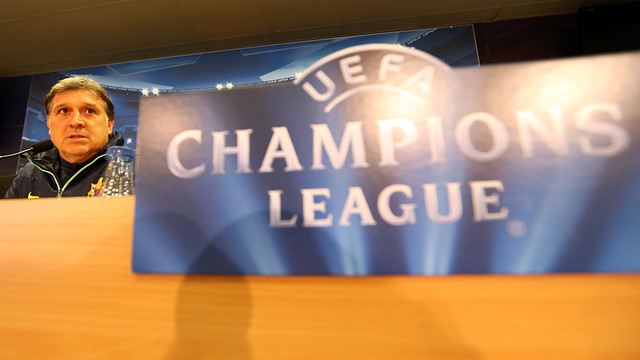 "What we want is for Messi to be decisive, he doesn't have to score," explains Martino
In the pre-match press conference ahead of tomorrow's Champions League tie against Atlético Madrid, Gerardo Martino said that Barça "need to win" and that "we will try to take the lead, this will allow us to play the game differently." The Argentinian manager said that Atlético "have a very defined style" and that he's prepared for the game "with all of the available players in mind."
[[CITA_1]]
"We (managers) take the sufficient amount of time to see if players are fit to play (in reference to Diego Costa). I think it's premature to surmise if he's going to play or not. We have to approach the game against Atlético as if all of their players are available," said Tata Martino, who knows that Arda Turan is not available for tomorrow's match.
Messi, always decisive
"We're accustomed to Messi scoring a goal per game. If he doesn't score, we all take notice. What we want is for him to be decisive, but that doesn't mean he has to score," said Martino, who added that the forward "has been decisive for the team in 2014, he's had the continuity that he hasn't had before and it's clear that he'll always be decisive for Barça."
The best moments
"I don't think our best moments at the Bernabéu were that different to the final minutes against Atlético Madrid. Only in one game we won and we didn't in the other. We saw the best Barça in both matches," said the manager, who was clear that Barça's objective "is to qualify for the semi-finals in 90 minutes. The prize is progressing to the semi-finals of the Champions League."
We have to approach the game against Atlético as if all of their players are available