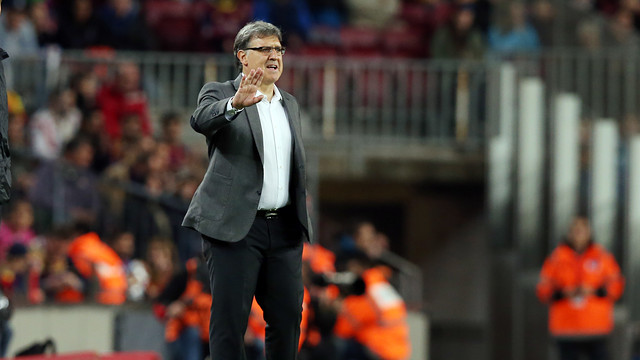 The manager praised his players after this Sunday's 2-1 victory over the Basque team
The manager also said "it's not normal for a team to create so many chances and not score"
In the pre-match press conference Martino admitted that his team was going through a delicate time and that they had to rally for this Sunday's match. After the 2-1 victory, the Argentinian said: "The circumstances weren't in our favour but we came from behind and won." Athletic had taken the lead thanks to a strike from Aduriz, but Barça battled back with two goals in as many minutes from Pedro and Messi. "In addition to our football, we relied on our courage to fight back," said the manager.
The Argentinian also acknowledged that certain parts of tonight's game reminded him of the match against Granada. "I thought it wasn't normal for a team to create so many chances and not score," he said.
[[CITA_1]]
Barça returned to its three-pronged attack with three strikers – Messi, Alexis and Pedro –, as opposed to fielding four midfielders. When asked about the tactical change, Martino explained that "we have to evaluate the game based on how our rivals play, and Athletic want to have possession and they also let you play." He added: "I'm very pleased for Messi because he defended himself the best way he knows how, on the pitch and not with words."
Lastly, Martino talked about the fans, who despite all the adversities stood by the team when Athletic took the lead. "I'm sticking with the moments the fans cheered us on and supported the team," said Martino.
we have to evaluate the game based on how our rivals play, and Athletic want to have possession and they also let you play