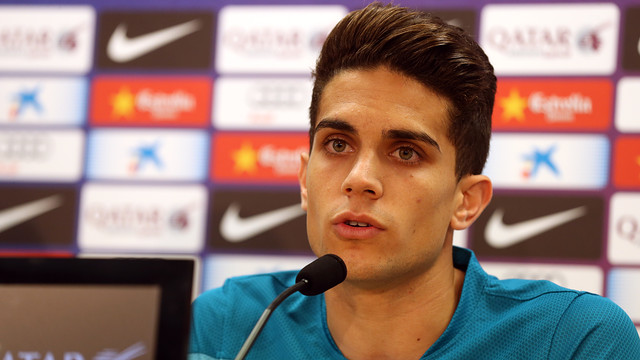 "I've matured a lot thanks to my teammates and the coaches", explained Bartra, who's made 27 appearances this season
Bartra also stressed: "the remaining four games are finals. We still hope to win this league".

Marc Bartra spoke to the media after training today and talked about the league run in and his own personal situation. Bartra, who has been at the Club for ten years now and has a contract through till 2018, explained: "I've matured a lot thanks to my teammates and the coaches. I've had some bad moments that I've come out of stronger and some good ones that make me even better. Playing with this team makes you strong with all the big games you are involved in".
Still in the league title race
"We know that we have to play the remaining four games like finals and the best thing we can do is to go into them totally committed, so that we are there if Atletico or Real Madrid slip up. We have to keep the pressure up on them and we still hope to win this league".
For the young Catalan, the comeback against Bilbao last weekend: "showed that there is no way we are giving up on the league title. It was a win based on our determination to stay in the race – we're ambitious and we will be going out to win every game".
Summer signings?

Asked as to how a possible summer signing of a central defender might affect him, Bartra made it clear that: " there's a lot of talk about new defenders, but that's the Club's business. The players who are already here have shown what we can do. I think the base of a Barça team has to be the home grown players, as it has been until now, whilst the players we bring in give some added quality, they adapt to our ways and we go forward. We always try and help players coming in to play at their best".
Finally, Bartra had words of praise for B team keeper Jordi Masip: "he's a great keeper, he's improved a lot and he is putting in an excellent season ".