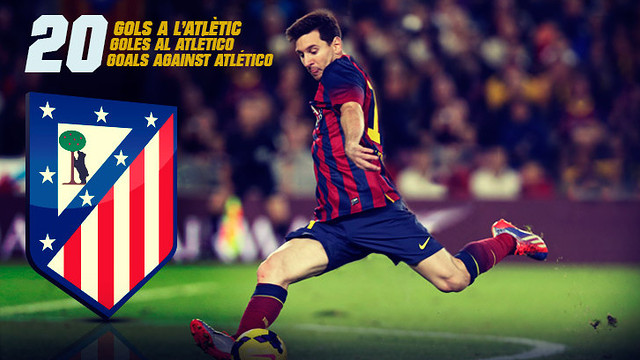 Leo Messi has scored a total of 20 goals against Atletico
Barça have lost just once against Atletico when Messi has scored

Leo Messi is a nightmare for any defence of course, but he's surely caused more sleepless nights for Atletico Madrid's defenders than for most. Barça's Champions League quarter final opponents are one of the Argentinean's favourite victims with Messi having scored 20 goals against them- 17 in the league and 3 in the Cup, with 12 coming at the Camp Nou and 8 at the Vicente Calderón. This season though, Messi has failed to score in all three games against Atletico…… so far!
Another good omen for Wednesday night is that Messi's goals have also generally proved decisive at the Vicente Calderon, with the team winning on four of the five occasions the Argentinean has got onto the scoresheet. Only the 2008/09 4-3 defeat saw Messi score and the team lose.
25 La Liga goals
Messi is also on a great scoring run right now, with 10 goals in the last 5 league games, which have taken him to 25, level with Diego Costa and three behind Cristiano Ronaldo, who have played two (Costa) and three (Cristiano) games more. All in all, figures that will could spell another nightmare for the Atletico defence when their tormentor in chief steps out at the Calderon on Wednesday night.