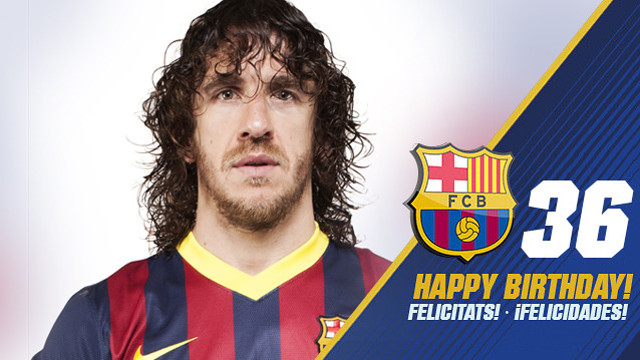 Barça's captain celebrates his 36th birthday today, 13 April. This will be his last birthday as an FC Barcelona player
Carles Puyol turns 36 years old today. This Sunday the captain celebrates his final birthday as an FC Barcelona player after he announced in early March that he would leave the Club at the end of the season. This is his 15th year in Barça's first team. He made his debut for the team in 1999 under manager Louis van Gaal, against Valladolid. Since then he's featured in 593 games and scored 18 goals – his latest was in Round 26 against Almeria. 391 of those games were league fixtures, which means he's the player with the second-most games played in the league in the history of the Club, behind Xavi.
In these last 15 years the captain has won 21 titles (6 leagues, 3 Champions League, 2 Copas del Rey, 2 European Super Cups, 6 Spanish Super Cups and 2 Club World Cups).