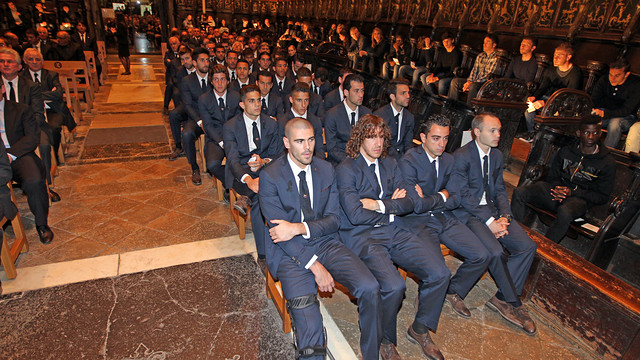 The Barcelona Cathedral hosted the Tito Vilanova's memorial ceremony this Monday evening, the former FC Barcelona manager passed away on Friday at the age of 45

The Cathedral of Barcelona was at capacity for Tito Vilanova's memorial service this Monday evening. The Cardinal Archbishop of Barcelona Lluís Martínez Sistach officiated the ceremony, which was attended by Vilanova's family, members of the Catalan government, former FC Barcelona presidents and players, and the first team, among many others.
In addition to the first team, the captains of Barça's other professional teams and the Juvenil B team, of which Tito's son Adrià is part of, were also present. They were accompanied by the Board of Directors led by President Josep Maria Bartomeu. Former presidents Agustí Montal, Josep Lluís Núñez, Joan Gaspart, Enric Reyna, Joan Laporta and Sandro Rosell also attended the ceremony. Former players Carles Rexach, Josep Maria Fusté, Migueli, Ferran Olivella, Josep Moratalla, Tente Sánchez, Toño de la Cruz, Josep Palau and Josep Franch, among others, were at the ceremony.
Representatives from La Liga teams also attended the ceremony. RCD Espanyol, with a delegation headed by its president, Joan Collet; Real Madrid, Fernando Fernández Tapias and Emilio Butragueño; RCD Mallorca, with Llorenç Serra Ferrer; Athletic Club, with José Ángel Iríbar; Valencia CF, with its president, Amadeo Salvo and Juan Sol; Real Betis, with Fernando Casas and Julio Jiménez; Sevilla CF, with its president, José Castro Carmona. In addition a representation from Lleida Esportiu with Oscar Borja Plana and Samara; and the president of Joventut Badalona, Jordi Villacampa were at the ceremony. Clubs from other leagues also sent delegations, such as Manchester City, with Txiki Begiristain; Benfica, with Gabriel and Joao Nuno Gomes; and Fiorentina, with Eduardo Macia.