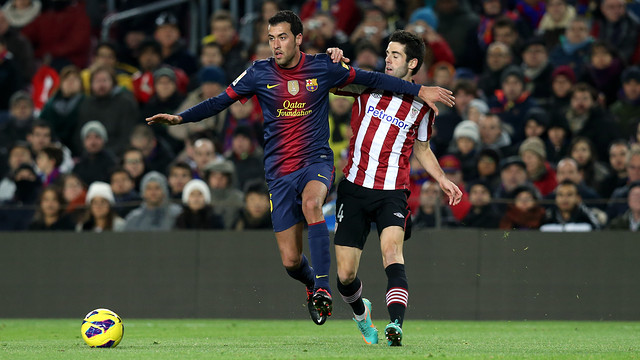 The LFP announced this Thursday that FC Barcelona will take on the Basques at 9.00 PM CET on April 20
FC Barcelona has been officially informed today that the Spanish Liga match against Athletic Club Bilbao will finally be played on April 20 at 9.00 PM CET at the Camp Nou.
The game was originally scheduled for May, supposing that Barça made it into the semi-finals of the Champions League, but as this was not the case, it will instead be played on the weekend planned at the start of the competition. The time of the game between Real Sociedad and Espanyol has also been moved, in that case to Saturday 19 at 8.00 PM CET.
Real Madrid's trip to Valladolid remains on May 7, and Atlético Madrid v Elce will be on Friday April 18, as the two Madrid based clubs have made into the last four of the UCL.
Following this announcement, Barça's remaining Liga fixtures are as follows:
-Round 33: Granada v FC Barcelona (Saturday 12 April at 8.00 PM CET)
-Round 34: FC Barcelona v Athletic Bilbao (Sunday 20 April, ae 9.00 PM CET)
-Round 35: Villarreal v FC Barcelona
-Round 36: FC Barcelona v Getafe
-Round 37: Elche v FC Barcelona
-Round 38: FC Barcelona v Atlético Madrid