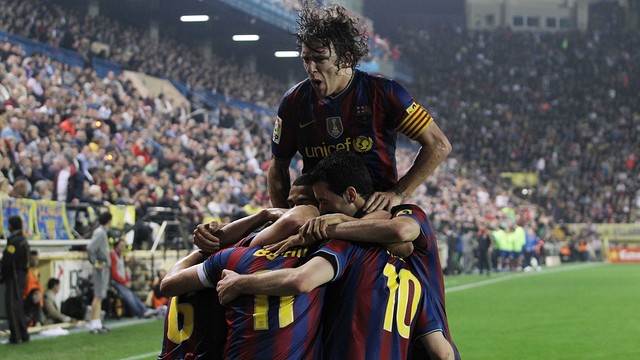 It is four years since FC Barcelona went to El Madrigal knowing that they needed a win to stay top of the league
That was also the 35th game of the season with Barça out of the cup and Champions League

There are lot of coincidences between the Villarreal v Barça game on Sunday (9.00 PM CET) and the one at El Madrigal on May 1, 2010. Then, like now, only a win would suffice for Barça in what was also the 35th game of the Liga season.
Goals from Messi, Xavi and Bojan
Under Josep Guardiola, FCB were league leaders when they travelled to face the 'Yellow Submarine'. They were out of the cup and had just that week gone out of the Champions League to Inter Milan. Everything now hung on the remaining four league matches, with FCB just one point ahead of Real Madrid in the table. The Catalans ended up winning 4-1 with goals from Messi (2), Xavi and Bojan.
Barça went on to win their other three remaining matches to claim the 2009/10 league title.
Things are a bit more complicated this time. Matters are not in Barça's hands, for they needed to win and hope both the two Madrid clubs drop points somewhere along the way. It all starts with Villarreal. Alves, Xavi, Busquets, Pedro and Messi, who all played on May 1, 2010, know what they have to do.