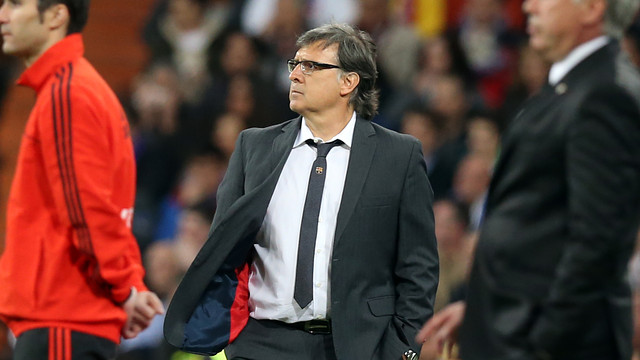 Curious stats and facts about the Clásico Cup Final that will be played this Wednesday in Mestalla
This will be the seventh Cup final between Barça and Real Madrid, the record currently stands at three wins for each team.
In regards to finals played in Valencia, the record stands at 2-1 in favour of Los Blancos.
Barça have won four of the last five Cup finals they've featured in. The only defeat was in 2011.
Real Madrid have only won two of the last seven Cup finals they've played in.
Gerardo Martino could become the fourth Argentinian manager to win a Copa del Rey title, and the third Argentinian to do it for Barça. His compatriots Helenio Herrara (1956 and 1981) and Cesar Luis Menotti (1983) claimed the title for the Blaugrana.
The Barça manager has the upper hand in the Martino-Ancelotti duel seeing that his team have won both league games against Madrid.
Carlo Ancelotti has won 8 of 11 championship games; two of them were lost after penalty shootouts.
Acelotti has won three Cup titles: two Coppas Italia as AC Milan's manager and the FA Cup with Chelsea.
Leo Messi surpassed Di Stéfano as the highest all-time goalscorer in Clásicos (21 goals) and he could add to his record on Wednesday.
Real Madrid have become Messi's favourite victim, ahead of Atlético Madrid, Osasuna and Sevilla.
Messi has scored two goals in the three Cup finals he's featured in, but he has yet to score against Madrid in the Cup. He's featured five times against Los Blancos in the competition.
Cristiano Ronaldo, who is doubtful for the final, has scored 13 goals against Barça and he's one adrift of Gento and Puskas in the Clásico goalscoring ranking.
Five of the eight goals Ronaldo has scored in finals, both with Madrid and Manchester United, were headers.
Real Madrid are the team that have featured in the most Cup finals (38), but Barça are the team with the most Cup titles (26).